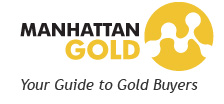 (PRWEB) June 27, 2013
Launched in June 2013, the Manhattan Gold website allows consumers to search local listings of U.S. gold buyers, such as pawnshops, jewelers or gold resellers. Consumers can search by entering in their city and state or their zip code, as well as the distance they are willing to travel to sell their gold.
Created by Manhattan Gold & Silver, a national B2B metal refining company located in Manhattan, NY, the website also provides insight on how gold buyer's assess a piece's worth, tips on how to make a more profitable sale, and common scams for consumers to avoid when selling their personal gold.
"This is a major advantage for gold sellers, allowing them to find reputable buyers in their area and request multiple quotes – potentially resulting in a greater profit," says Michael Oistacher, Vice President of Manhattan Gold & Silver.
Gold buyers can also utilize the site by adding their business listings to the gold merchant guide. Oistacher adds that this provides gold merchants with the opportunity to drive business right to their doorsteps.
Designed to be an information hub on everything gold, the Manhattan Gold website also offers tips on getting the best price for a gold piece, a gold coin and bullion glossary, gold care and gold cleaning tips, timely news articles, and a blog with odd, outrageous and over-the-top stories about gold. Website users can also subscribe to the blog to receive the latest gold news right in their email inbox.
By leveraging Manhattan Gold & Silver's 28 years of experience in the gold industry, the new Manhattan Gold site aims to help consumers get the most for their gold – and also shed some light on how the gold-selling process works.
"We want to help consumers make informed, educated decisions on where they want to sell their gold and how much they agree to sell it for," says Oistacher. "And one of the best ways to do that is by educating them on the industry, and giving them the tools and resources they need to sell their gold to the right buyer."
About Manhattan Gold
Manhattan Gold, an online guide and website dedicated to all things gold, was created by Manhattan Gold and Silver – a national resource for B2B precious metal refining services. To find a gold buyer near you or to add your business to our gold directory, please visit http://www.manhattangold.com.