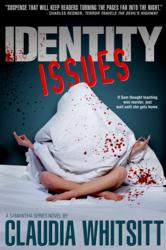 The stress from identity theft is all encompassing, Whitsitt says. Often, police don't want to be bothered.
Saline, Michigan (PRWEB) June 28, 2013
Identity theft has emerged as "the perfect storm," the combination of technology and our need to interconnect, with criminal intent and the all-too-accessible reach of our personal and financial information.
Identity theft deeply impacted the life of Michigan author Claudia Whitsitt and her family for many years. Whitsitt's new novel, "Identity Issues", deals squarely with the subject and its short- and long-term impact on personal and family financial and personal security.
"Identity Issues" By Claudia Whitsitt is available in bookstores
According to the Consumer Sentinel Network, identity theft now ranks as the No. 1 consumer complaint nationwide. In 2012, nearly 2.1 million people reported that their identity had been compromised in some way – a dramatic increase from the 325,000 who reported the same in 2001.
"Identity theft can alter your life in profound ways," Whitsitt said. "The most obvious effect is financial, and the stress from that overwhelming. Countless, frustrating hours can make up the months following the theft."
Through the story, Whitsitt brings out the impact of compromised identity in "Identity Issues". The narrator, Samantha Stitsill, is a fun-loving, quick-witted, dedicated Midwestern mother of five who teaches Special Education while scrambling to keep up with "playing the episodic single mom to my own personal basketball team," the author writes. Her husband, Jon, is the president of an overseas company, and spends much of his time traveling the world on business. The kids miss him, Samantha misses him …
Then Sam's everyday life is thrown into extraordinary gear. While Jon is away on his latest trip, she receives an envelope from Botswana with handwritten letters "reminding me of one of those scary late-night movies I'd watched as a kid where a serial killer had cut and pasted letters from a magazine." The message is a cold threat: "Come to Botswana. The wrath of God shall be upon you. If your life has value, come now. Do not delay."
Jon shrugs off the note. Soon, more unfamiliar people contact her about her husband, about suspicious actions he apparently took halfway around the world. They claim he leads a secret life, of which she is unaware. The man shares Jon's birthdate and many other characteristics, but Sam keeps fighting it off as coincidence. Is it coincidence? Does he have another life? Are she and Jon the victim of identity theft? Or is he the villain, imperiling their lives?
What follows in Identity Issues are more than 200 pages that, through Whitsitt's skillful writing, spell out how identity theft threatens the existence of family, trust, love, livelihood … and life itself. Especially when much of the story is based on actual events.
"After the calls faded, a parent who shared my surname visited me at Parent-Teacher conferences. Who's named Whitsitt? C'mon, really!" the author said. "She claimed her husband shared the same first and middle name as my husband, along with a matching birth date and countless other similarities. That short twenty-minute conference with the other Mrs. Whitsitt, who wound up making startling accusations, marked the conception of "Identity Issues".
Whitsitt writes "Identity Issues" in a crisp, catchy voice laced with equal parts humor, suspense, mystery, and the protagonist's high-strung take on life. She plunges headlong into the issue of identity theft, one with which she is most familiar; she and her real-life husband, Don, were caught in the middle of an identity theft issue for many years.
"The stress from identity theft is all encompassing," Whitsitt says. "Often, police don't want to be bothered. In our situation, they felt no real crime had been committed since we suffered no financial loss. They felt it was impossible to catch the perpetrator, and while their interest was piqued over the details surrounding our particular case, they weren't interested in helping us solve the puzzle."
"Identity Issues" is available through online booksellers and retail stories. It is the first in a series of based-on-true-life mysteries authored by Whitsitt, who lives with her husband, Don, in Michigan.
"Identity Issues" By Claudia Whitsitt is available in bookstores nationwide and on Amazon.com.