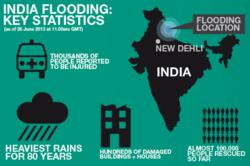 Sarasota, FL (PRWEB) June 26, 2013
Many are calling northwest India's heaviest rains for 80 years a "Himalayan tsunami." Almost 100,000 people have been rescued so far, tens of thousands more remain displaced from their homes, and thousands are reported to be injured. Infrastructure and farmland have been swept away and landslides have been caused.
A response team with international humanitarian relief organization, ShelterBox, is now assessing the situation in Uttarakhand state, a mountainous region that is one of the worst affected by the flooding.
Since 2000, the charity has provided humanitarian aid—emergency tented shelter and other supplies, such as stoves, blankets and water filtration systems, among other tools to help families rebuild their lives after losing their homes and possessions following a disaster such as earthquake, volcano, flood, hurricane, cyclone, tsunami or conflict.
"This past year, I have lived and worked in Himachal Pradesh, a neighboring state to Uttarakhand that is also affected by the torrential monsoon rains," said ShelterBox Response Team member, Eva Doerr. "It is a very different feeling deploying to a place I now call home."
Although rescue and relief efforts have been hampered by continuous rain, mist and fog, Doerr is impressed by people's determination to continue to assist no matter what.
"Within the first 24 hours in country, the people here have already proven to me once again how much they are willing to help each other out. It seems as if there are a lot of very active individuals as well as local aid agencies working in Uttarakhand to provide quick relief for those in need."
Using contacts that Doerr made during her time living in India, the team has made progress in just the first day of its response to the devastating disaster.
"It is amazing how much the few contacts we had in country prior to arrival have already helped us with our efforts to assess the scale of need. We managed to reach Dehradun, the capital of Uttarakhand, the day we arrived and plan to travel to some of the most affected districts later today."
Many of the worst affected communities live in hard-to-reach areas, including Kedarnath and Badrinath, where livelihoods depend on subsistence farming and cattle rearing. Not only have they lost their homes but also their crops and livestock. ShelterBox is exploring various possibilities of bringing aid to these isolated areas.
ShelterBox is also currently assisting families affected by the ongoing conflict in Syria and recent tornado in Oklahoma.
ShelterBox's American affiliate, ShelterBox USA, is headquartered in Sarasota, Fla. Individual tax-deductible donations to ShelterBox USA can be made at http://www.shelterboxusa.org or by calling 941-907-6036.