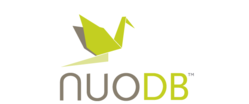 Downloads of the NuoDB solution have almost tripled.

Barry Morris, Co-Founder and CEO, NuoDB, Inc.
Cambridge, Massachusetts (PRWEB) June 26, 2013
NuoDB, Inc., the industry leader in NewSQL, today announced they have released another Open Source driver on Github. The new Python driver is accompanied by full documentation of the NuoDB wire protocol. This new documentation enables developers to easily build and release their own drivers for the NuoDB solution in other programming languages.
The company had originally announced the Open Source Initiative in early 2012. This effort gave developers the ability to freely contribute to NuoDB's database driver developments on Github.
Earlier this year, NuoDB had also open sourced its .NET driver and today's announcement includes several enhancements to that driver:

2 assemblies: .NET 3.5 and .NET 4.0
Entity Framework 5 support in the .NET 4.0 driver
Reading/writing GUID columns to the database
Connection pooling.
Supporting quotes
"I beta tested the NuoDB Python driver with SQL Alchemy, got excellent results, and will be porting my application to NuoDB soon," stated Peter Bunyan, a developer at Blueshed, England.
"Downloads of the NuoDB solution have almost tripled since we announced general availability in January 2013. As demand has accelerated, more and more developers are asking for specific drivers like Erlang or niche drivers used with proprietary enterprise applications," stated Barry Morris, NuoDB Co-Founder and CEO. "Documenting the wire protocol for widespread development will ensure NuoDB's customers are able to develop with the tools they favor. By open sourcing on the client side, we will help accelerate customers' application development cycles."
About the NuoDB Starlings release
The NuoDB Starlings database management system features the safety of SQL with elastic scale out, zero downtime and geo-distribution. The release, first made generally available on January 15, 2013, eliminates the need for the complex database workarounds like clustering, performance tuning and sharding that are typically associated with bringing applications to the cloud.
About NuoDB
Everyday businesses face serious challenges coping with application performance, maintaining business continuity and gaining operational intelligence in real-time.
NuoDB leads the industry with a proven NewSQL solution to solve all these challenges. It provides a unique combination of scale-out performance, zero downtime and geo-distributed data management. It's an operational DBMS to handle transactions, interactions and observations anywhere.
Launched in 2010 by industry-renowned database architect Jim Starkey and accomplished software CEO Barry Morris, the company is based in Cambridge, MA. Used by thousands of developers worldwide, NuoDB's customers include automotive after-market giant AutoZone, NorthPoint Solutions and other innovative companies.
The company is the recipient of numerous, prestigious industry awards including: Gartner Cool Vendor and The Red Herring Top 100. http://www.nuodb.com.