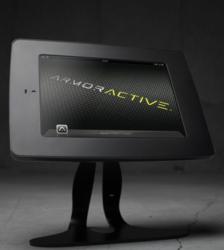 ...the attractive price point of the Evolve Lite opens doors for deployments that have been limited by budgets.
Salt Lake City, UT (PRWEB) June 26, 2013
ArmorActive, a leading purveyor of iPad security kiosk products, is pleased to unveil a new product model--the Evolve Lite iPad mount. Based on the popular Evolve model, which has attracted attention from companies such as Disney, Buffalo Wild Wings, ESPN, and Quicksilver, the Evolve Lite adds a simplified form factor to decrease setup times, making the Evolve Lite ArmorActive's most affordable and feature-rich iPad enclosure yet. The Evolve Lite makes it easier than ever to securely deploy the iPad in a variety of useful business settings, from digital signage to point of sale.
The adaptable form factor of the Evolve iPad enclosure has attracted the attention of nearly every Fortune 500 company, with interchangeable caps that allow for a variety of setups. Projects using the Evolve range from an Aveda digital signage project of more than 120 Evolve enclosures, to the Lebron James Unknwn store with 50 custom branded Evolve iPad displays. To ensure that the Evolve Lite doesn't lose this feature-rich history, the team at ArmorActive performed extensive research to include current Evolve features that clients frequently utilize, as well as some new functionality unique to the Evolve Lite.
Evolve Lite features include:

Open access to both iPad cameras
Cable access for quick plug-in of power cable
iPad lock and power button via key access
Speaker port allows sound from iPad
Restricted home button access
Custom branding capabilities
75mm and 100mm VESA mounting
Compatible with iPad 2/3/4
Microphone pass through
Made in the USA
In addition to this extensive list of features, the Evolve Lite iPad mount offers a competitive price point, coming in at only $129.00. "Our favorite thing about the new Evolve Lite is what it does for this industry," said CMO Nick Ames, "the attractive price point of the Evolve Lite opens doors for deployments that have been limited by budgets. With the affordability of the iPad 2, companies are finding that large rollouts are more affordable than ever. Creating a price sensitive solution without losing functionality was a challenge we embraced and have accomplished."
This product release comes on the heels of the 2013 Apple WWDC and exciting announcements about iOS 7 and the future of mobile devices. The Evolve Lite will allow more businesses to take advantage of this mobile technology, providing a more affordable deployment option without sacrificing features or functionality.
About ArmorActive Inc.
ArmorActive specializes in purpose-built solutions for deploying tablet computers into any business landscape. A wide variety of ArmorActive products are available at: http://www.ipadenclosures.com