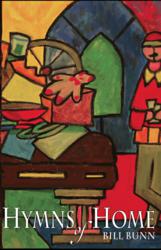 Altadena, CA (PRWEB) June 26, 2013
Published March 1, 2013 from Bitingduck Press, Bill Bunn's collection of 29 essays, Hymns of Home, is winning critical and popular acclaim from fans across North America and abroad. One reviewer, on her blog The Garden Window, says "there is much wisdom and humanity in these essays, touching on our responsibilities to our children, taking joy in the small things of nature as well as the absurdities of our daily lives. Short enough to pick up and read in a spare few minutes but robust enough to spend a day mulling over the depths contained therein, this was a great book." Others agree, as his book reached #1 in non-fiction on Calgary's bestseller list today.
Previously published in Salon, The Globe and Mail, and elsewhere, these short pieces are touching and often poignant, but always with a touch of humor. In "The Cap Gun was Loaded," a young boy learns some hard lessons about the world when he wonders why he can't take a cap gun to school. Bunn encourages us to slow down to nature's pace in "Take a Walk," reminding us that the earth and its other inhabitants never expected us to hurtle by at 60 miles an hour. Other stories are simply funny and make terrific bedtime reading for parents of small children. When a bottle of glue substitutes for a stuffed animal in "Picking Slim," any parent will groan in anticipation of the sticky results.
An English professor and author of the young adult adventure Duck Boy (Bitingduck Press, 2012), Bunn is currently working on his second young adult novel. He details his writing adventures on his blog, discussing the creative process, how to write a book, and how a book travels from writing to publication. A member of the Young Alberta Book Society, he regularly gives presentations in schools on his books and on how to become a writer; some of his materials are available on his blog for classroom use.
Hymns of Home is available in both print and electronic format from all major retailers (Amazon, Barnes & Noble, Kobo), as well as from the publisher's webstore. Bitingduck Press is also seeking partners for its in-store sales technology Web Bytez, which allows e-books to be sold at any venue, without start-up costs or inventory. Both fiction and non-fiction submissions are welcomed from authors in all genres, with a special interest in Young Adult (Fall 2014) and Hard Sci-Fi (Spring 2015).