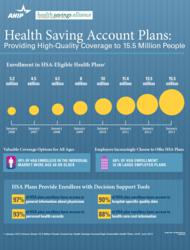 Washington, D.C. (PRWEB) June 26, 2013
Nearly 15.5 million Americans are covered by Health Savings Account (HSA)-eligible insurance plans, an increase of nearly 15 percent since last year, according to a new census released today by America's Health Insurance Plans (AHIP). The census also found that the greatest enrollment increases were in the large group market, which represents nearly 70 percent of all enrollment in health savings account/high-deductible health plans (HSA/HDHPs) in 2013.
HSA plans were authorized by Congress starting in January 2004. Since then, AHIP has conducted an annual census of the number of people covered by HSA/HDHPs. This year's census shows that enrollment in HSA plans has more than tripled over the last six years, from 4.5 million enrollees in January 2007 to 15.5 million in January 2013.
"HSA plans have given individuals and employers a valuable coverage option," said Karen Ignagni, AHIP President and CEO. "HSA plans encourage individuals to take an active role in their health care decisions while stretching their health care dollars."
Key findings from the census include:

The number of individuals with HSA coverage rose to nearly 15.5 million in January 2013, up from 13.5 in January 2012. Enrollment has continued to increase each year of the census with 11.4 million enrolled in coverage in January 2011, 10.0 million in January 2010, 8.0 million in January 2009, and 6.1 million in January 2008.
Between January 2012 and January 2013, the most significant enrollment gains occurred in the large group market. The number of HSA/HDHP covered lives enrolled in large group plans increased from 7.9 million in January 2012 to 9.6 million in January 2013.
Forty-nine (49) percent of all HSA/HDHP enrollees in the individual market (including dependents covered under family plans) were age 40 or over; 51 percent were under age 40.
States with the highest levels of HSA/HDHP enrollment were Illinois (903,000 enrollees), Texas (889,364 enrollees), California (808,019 enrollees), Ohio (686,616 enrollees) and Michigan (577,208 enrollees).
Consumer Decision Support Tools for HSA Enrollees
The census also found that the vast majority of individuals enrolled in a HSA plan have access to a variety of tools and resources, including information for selecting appropriate providers and hospitals, to help make more informed health care decisions for themselves and their family members.
To learn more about the value of HSA plans, visit the Health Savings Alliance at http://www.hsaalliance.org.
To view the full report: http://www.ahip.org/HSA2013/
To view slides of the report's findings: http://www.ahip.org/HSACensus2013Slides/