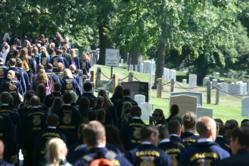 Students who attend the Washington Leadership Conference learn their purpose, how to value people, how take action and the importance of serving others.
Indianapolis, Indiana (PRWEB) June 26, 2013
Thousands of FFA members from throughout the country are converging on Washington, D.C., this summer to analyze their personal skills and interests, develop leadership skills and a create a meaningful community-service plan that will make a difference in their home communities.
More than 1,800 students are attending the 2013 Washington Leadership Conference, the second-largest student experience that the National FFA Organization hosts each year. Created in 1969 and held annually in Washington, D.C., this year's conference began June 4 based at the Holiday Inn Dulles.
Through July 21, FFA members will spend a week under the guidance of educational professionals, counselors and professional FFA staff members. In workshops, seminars and small groups, students will focus on identifying and developing their personal strengths and goals and undergo comprehensive leadership training that will help them guide their local FFA chapters.
Students will also analyze needs of their communities back home, develop a wide-ranging and high-impact community-service initiative and implement their plan with the help of their FFA chapter upon return home. Students in recent years have created food and clothing drives, volunteer campaigns, educational outreach initiatives and more.
"Students who attend the Washington Leadership Conference learn their purpose, how to value people, how take action and the importance of serving others," said National FFA Organization CEO Dr. Dwight Armstrong. "They leave with the knowledge and the confidence to act in ways that help their schools, communities and their country."
During their time in Washington, FFA members will experience the history of the nation's capital, touring landmarks including the Washington Monument, War Memorial, the National Mall, Arlington National Cemetery and the U.S. Capitol among others. Many students also arrange meetings with members of Congress.
"Monsanto's support of the Washington Leadership Conference demonstrates our commitment to the talented and passionate youth who will become agricultural leaders," said Linda Arnold, Monsanto customer advocacy outreach lead. "Monsanto has a long tradition of supporting agriculture youth so they can develop the skills necessary to meet the needs of today while preserving the planet for tomorrow."
Agricultural education teachers attend the Washington Leadership Conference as well, learning how to motivate and help develop their students' personal growth and leadership potential and how they can help maximize their local FFA chapters' community-service initiatives throughout the year.
The conclusion of each weekly session of the Washington Leadership Conference is a Day of Service, during which students work together on a real, hands-on community-service project. Last year, students volunteered a combined 9,500 hours to pack and distribute more than 280,000 meals for greater Washington, D.C.-area food pantries and for distribution to families in Nicaragua.
"CSX is proud to support our nation's future leaders by supporting the Washington Leadership Conference," said Tori Kaplan, CSX AVP of corporate social responsibility. "CSX is pleased to support the conference and is even more excited to sponsor community service events with FFA members that will have a positive effect on the city's school district."
The 2013 National FFA Organization's Washington Leadership Conference is sponsored through the National FFA Foundation by title sponsors Monsanto and CSX and by weekly sponsors TransCanada, Crop Production Services, Farm Credit and CHS. For more, visit http://www.FFA.org/WLC. Follow the conference on Twitter at #WLC2013.
The National FFA Organization provides leadership, personal growth and career success training through agricultural education to 557,318 student members in grades seven through 12 who belong to one of 7,498 local FFA chapters throughout the U.S., Puerto Rico and the Virgin Islands.