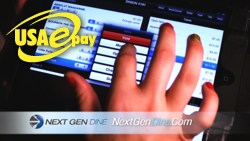 This strategic collaboration makes processing payments with Next Gen Dine a secure and easy process, using USAePay mobile payment solutions.
Los Angeles, CA (PRWEB) June 27, 2013
USAePay is excited to announce Next Gen Dine by Prelag Partners LLC is now integrated with USAePay payment gateway solutions. This strategic collaboration makes processing payments with Next Gen Dine a secure and easy process, using USAePay mobile payment solutions. USAePay payment solutions will act as an intermediary between processing payments for the Next Gen Dine point of sale software. Partnering with USAePay provides many benefits to point of sale companies looking for payment gateway solutions. These benefits include live customer service, customer management tools, fraud tools, card account updater, recurring billing, inventory management tools, and level 1 PCI compliant security.
USAePay's payment devices provide easy and secure mobile payments, offering Next Gen Dine optimal payment solutions. The PaySaber Jack is the ultimate way to accept payments, working universally with Apple and Android products. A two-track encryption capable magnetic stripe reader ensures a secure transaction every time. The USB mag reader also offers secure payment transactions turning your computer into a credit card processing terminal.
Security is USAePay's business. USAePay offers end-to-end (E2E) encryption and PCI compliance, which allows customers and Next Gen Dine users' peace of mind. No credit card information will ever be at risk if a tablet is compromised or stolen. Card information is never stored on the tablet, but is encrypted and stored on secure servers, providing Next Gen Dine customers the safest mobile credit card processing in the payment industry.
About USAePay:
Since 1998 USAePay, a GorCorp Inc. company has been helping merchants process their credit card and check transactions with speed and security. Founded by the Goretsky brothers, the company is family-owned and based in Los Angeles; CA. Currently the USAePay gateway supports all of the major platforms (eg. First Data, TSYS, Global, Paymentech...) in the credit card industry and works with some of the leading check platforms. USAePay is also pleased to work with many of the larger merchant service banks in the US and abroad. For more information, please visit http://www.usaepay.com or call 866.USA.EPAY (872-3729).
About Next Gen Dine:
Next Gen Dine is the future of restaurant dining. For more information, please contact Paul Roberts by phone at 1-877-342-2218 or email at paul(at)nextgendine(dot)com.
Next Gen Dine is a tablet-based, mobile point of sale software designed for the iPad. Restaurant owners can now capitalize on the benefits of a full-featured POS system for a fraction of the cost of a traditional POS. Due to the mobility offered by the software, employees can take orders directly at the table, take credit card payments at the customer's side, and drastically improve restaurant operating efficiency. Orders are sent directly to the appropriate prep. Station immediately, therefore decreasing order turnaround time. Next Gen Dine also offers restaurant owner's customer loyalty, gift card, social media, and fine-grained marketing tools.