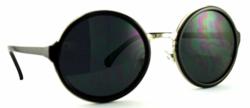 This means that the pair of shades your favorite celebrity is wearing is now available to you.
(PRWEB) June 29, 2013
Those in the know in the world of fashion keep themselves informed about the latest trends that celebrities are rocking. Those people love to see the latest sunglasses that celebrities are wearing. Most of us wish that designer shades didn't cost so much money. But Wholecelebshades.com was created to help make versions of designer shades affordable to everyone. This means that the pair of shades our favorite celebrities are wearing are now available to everyone.
Whitney's Designer Inspired Oversized Criss Cross sunglasses come with metal accents on both sides of the frame. These designer inspired shades are available in numerous colors with an affordable price of under twenty dollars. Invest in more than one pair in order to switch it up.
Rihanna five-sided star shaped designer sunglasses are the hottest style this season. And at such an affordable price, why not splurge on more than one pair. Rihanna sunglasses are available in five striking colors.
Breakfast at Tiffany Designer Inspired sunglasses will have any traditional fashionista feeling like a starlet. These sassy upturned outer frame sunglasses will compliment the most discerning personal style and flare. Available in two colors choose that one that fits the best.
Gaga Shield Inspired sunglasses are oversize vintage style sunglasses with a hand polished frame and a metal bridge accent. Gaga Shield sunglasses come in two different colors. These sunglasses will have every aspiring diva feeling like their favorite celebrity every time they slide them on.
Beyonce Inspired Big Round sunglasses have a metal frame and lens accents. Why not buy these reasonably priced sunglasses to feel like Beyonce? Choose the color that best fits your personal style.
Trek Vintage Angular style sunglasses with futuristic angular hand polished frames. Truly feel like a trendsetter stepping into the future while keeping your eyes protected from the sun's harmful rays.
Christina Amazing Beveled Sunglasses happen to feature a large textured frame with designer style. These sunglasses are available in numerous colors to choose from with such a reasonable price. Match a pair of shades with every favorite outfit with these low, low prices.
With so many different designer inspired styles to choose from, it's difficult to know where to begin. The great thing about this website is with such great prices, a thrifty shopper doesn't need to choose just one pair. Browse Wholecelebshades.com and find a pair of shades to fit every mood and occasion.