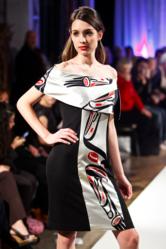 "These fashion designers represent Native American tribes from across North America and are leaders in Native American fashion design," said Heather Companiott, director of the Idyllwild Arts Native American Arts Program.
Idyllwild, CA (PRWEB) June 27, 2013
Idyllwild Arts Summer Program will present its first Native American Fashion Show on Friday, July 5 at 7 p.m. in the Idyllwild Arts Foundation Theatre. The public is invited to attend this free event.
The show features fashion designs of ten prominent Native American designers, including Lifetime's Project Runway Season 11 runner-up Patricia Michaels, and renowned Northwest Coast designer Dorothy Grant.
A performance by the Cahuilla Bird Singers will kick off the event. The Fashion Show will lead with street wear designs by Alano Edzerza followed by couture designs by Consuelo Pascual, Pilar Agoyo, David Gaussoin, Bethany Yellowtail, Patricia Michaels and Dorothy Grant, with jewelry by Kristen Dorsey and Wayne Gaussoin, and purses by Maya Stewart.
Dr. Jessica Metcalfe (Turtle Mountain Chippewa), owner of the online boutique, Beyond Buckskin, is the show's producer.
"These fashion designers represent Native American tribes from across North America and are leaders in Native American fashion design," said Heather Companiott, director of the Idyllwild Arts Native American Arts Program. "Their work reflects their own personal heritage while exploring exciting new directions in contemporary fashion."
Listed below are the tribal affiliation and current location of each designer:
Patricia Michaels – Taos Pueblo – Taos, New Mexico
Dorothy Grant – Haida – Vancouver, B.C., Canada
Bethany Yellowtail – Crow, Northern Cheyenne – Los Angeles, California
Consuelo Pascual – Navajo – Santa Fe, New Mexico
Jamie Okuma – Luiseño/Shoshone Bannock – Pauma Valley, California
Kristin Dorsey – Chickasaw – Los Angeles, California
Maya Stewart – Chickasaw – Los Angeles, California
Alano Edzerra – Tahltan – Vancouver, B.C., Canada
Pilar Agoyo – Ohkay Owingeh/Cochiti/Santo Domingo - Santa Fe, New Mexico
David Gaussoin – Picuris Pueblo, Navajo – Santa Fe, New Mexico
Wayne Nez Gaussoin – Navajo, Picuris – Santa Fe, New Mexico
The theme of this year's annual Native American Arts Festival Week (June 30 – July 6) is "Continuum." The week-long festival, designed to enhance and enrich the program's hands-on workshops, includes performances, art exhibits, demonstrations, native food tastings, and the Michael Kabotie Lecture series. These daily events are free and open to the public and feature tribal elders, visiting scholars and artists who will explore a wide range of topics on "Continuum."
The Idyllwild Arts celebrates its 64th Annual Summer Program (June 16 – August 11, 2013) and offers more than 100 intensive hands-on workshops for all ages in a variety of fields including music, dance, theatre, visual arts, writing, filmmaking and Native arts. A major component of the Summer Program is the annual Native American Arts Festival Week. Visit: idyllwildarts.org/summer
# # #