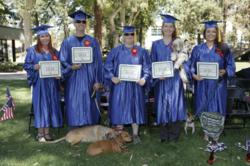 Santa Clarita, CA (PRWEB) June 28, 2013
Animal Behavior College held its first Dog Trainer In-Classroom Program Commencement Ceremony, on Monday, June 17, 2013 at the school's headquarters at Mann Biomedical Park in Santa Clarita, California.
ABC President and Founder Steven Appelbaum presented Honor Graduates Nikole Iudica, Diana Mogensen, Rose Ferguson, Chris Grant, and Erika Contant with their diplomas and emphasized how they possess the fundamental skills to succeed in their chosen careers. Course instructor Beth Harrison congratulated the students for their hard work and diligence and highlighted each student's defining characteristics. Best Friends' Animal Society, Playgroup Coordinator Catherine Sobolewski and Animal Behavior College Dog Trainer graduate reminded them that it only gets better from here.
Animal Behavior College was founded in 1998 and the school's unique structure incorporates a distance-learning and hands-on externship-training model. The school offers courses for certified dog training, pet grooming and veterinary assistants in all 50 states and every Canadian province making it the largest vocational school of its kind in North America. This ceremony is of particular significance because it marks the first time ABC offered an on campus program. The next Dog Trainer Classroom Program will start next Monday June 24, 2013 and has twice the enrollment of the just graduated class. Graduation is scheduled for November 22, 2013. For more information, please call 800-795-3294.
ABC is committed to helping its military students with tuition assistance and funding is available for qualified military families. The Dog Trainer Classroom Program has the approval to train veterans and eligible persons under the provisions of title 38, United States Code. In particular, four of the five graduates are Military Veterans and some include the assistance of a service dog pending Post Traumatic Stress Disorder.