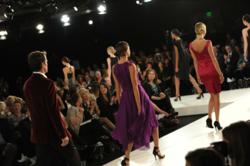 BELLEVUE, Wash. (PRWEB) June 28, 2013
Hyatt Regency Bellevue, located on Seattle's stylish Eastside, adds an exciting twist to this year's Fashion Week at The Bellevue Collection by hosting its first-ever fashion giveaway. The lucky sweepstakes winner and guest will receive $800 towards airfare, a four-night hotel stay at Hyatt Regency Bellevue and tickets to all four of the week's fashion shows. For a bit of pampering, the $3,500 prize package also includes pre-show beauty styling at O2, lunch and spa treatments at Yuan Spa and a $500 dollar shopping spree at The Bellevue Collection, the city's premier shopping destination with more than 250 world-class retail and fine dining choices.
For the eighth year, The Bellevue Collection is set to once again produce the season's best runway shows during the Northwest's premier fashion event, Fashion Week at The Bellevue Collection, September 25 - 29, 2013. The week-long experience goes day-to-night with runway shows, chic parties, special appearances, in-store events, happy hours and irresistible shopping. As the venue for all shows, and many of the week's social events, Hyatt Regency Bellevue is the place to see and be seen.
"Over the last few years, Fashion Week at The Bellevue Collection has grown into a unique and truly cosmopolitan event, drawing nearly 3,000 attendees," said Hyatt Regency Bellevue General Manager Tom Wolf. "It's an annual event we look forward to each year, and our sweepstakes offers one lucky winner the chance to experience the excitement and style of our city."
Hyatt Regency Bellevue invites fashionistas across the country to enter the "Experience Front Row Fashion at Hyatt Regency Bellevue" Facebook contest for the chance to win this unforgettable trip to 2013 Fashion Week at The Bellevue Collection. The sweepstakes closes on July 31st, 2013 at 7 a.m. PST, and the terms and conditions and entry details can be found here: http://bit.ly/WinBellevueFashion.
For a full list of Fashion Week events or for more information on Hyatt Regency Bellevue, visit http://www.bellevuecollection.com/FashionWeek or http://www.bellevue.hyatt.com.
About Hyatt Regency Bellevue
Hyatt Regency Bellevue is an AAA four-diamond hotel situated on Seattle's Eastside, in the heart of downtown Bellevue, Washington. Nestled between Lake Washington and the Cascade Mountain Range, the hotel is part of The Bellevue Collection, the Northwest's leading shopping, dining and entertainment destination, and offers premier services and amenities to both business and leisure travelers. Having recently completed a $185 million expansion and earning a prestigious 5 Green Key rating from the Green Key Eco-Rating Program in 2011 and 2012, the hotel offers groups more than 70,000 square feet of flexible state-of-the-art event space, 732 luxuriously redesigned guestrooms, an expansive 7,000-square-foot workout complex and a comfortable, spacious lobby. For more information, please visit http://www.bellevue.hyatt.com.