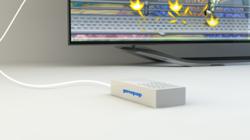 With the free promotion we've been doing in June we're already seeing a ton of adoption.
Palo Alto, CA (PRWEB) June 28, 2013
Mobile company BlueStacks has announced a second vehicle to deliver its new GamePop mobile gaming service, the GamePop Mini. Like the recently announced $129 GamePop, the new device will also run Jelly Bean 4.2, connect to TV via a supplied HDMI cable and include a curated group of 500 popular mobile game partners. Announced partners include HalfBrick (Fruit Ninja, Jetpack Joyride), Glu (Blood Brothers), #1 Kids app developer Intellijoy and more. BlueStacks says the 6.99/month subscription will include access to over $200 in paid games for free.
"We have always planned on having a free console option," said BlueStacks CEO, Rosen Sharma. "The biggest value of the GamePop service is its content – not the box. With the free promotion we've been doing in June we're already seeing a ton of adoption. That volume then attracts more developers and therefore more and better content. It's building momentum."
In addition to announcing a lineup of several popular Google Top Developers, BlueStacks also came out with its "Looking Glass" technology earlier this month. Looking Glass will allow iOS-only developers to easily launch on GamePop. Titles such as iOS's first major franchise the Fieldrunners series will be able to come to TVs this way.
"We want to make things as easy as possible for app developers to come on board," said Ben Armstrong of the company's developer relations team. "There is a virtuous circle between great content and volume that we're having a lot of early success jumpstarting so far. The launch titles a service comes with are critical." Pre-orders went on sale May 9 for GamePop at Gamepop.tv and while not releasing specific numbers, the company reports they are stronger than expected. The free promotion for the GamePop console will end June 30, when it will go back to its regular price of $129. The GamePop Mini will be available for pre-order July 1. It is slated to ship this winter.
ABOUT BLUESTACKS
BlueStacks was founded in 2009 to bring the energy and creativity of the mobile app world to every type of device. The company is funded with 15M from Intel, Andreessen-Horowitz, Radar Partners, Redpoint, Ignition Partners and Qualcomm. The company's App Player software has over 10 million users. Join their more than 1.2 million Facebook fans at Facebook.com/BlueStacksinc, or on Twitter at @BlueStacksinc