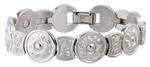 We could not be more thrilled to be able to offer this great line of magnetic bracelets to our customers.
Belleair Bluffs, FL (PRWEB) June 29, 2013
Online jewelry retailer, BillyTheTree.com, has unveiled its latest addition to its magnetic bracelet selection with the Sabona of London designer collection.
Sabona incorporates the best quality clasp in magnetic bracelets, designed to fasten securely to prevent inadvertent opening or loss. Their designs are unique with a variety of styles, ranging from subtle flower designs with a classic western antique look to an Aztec look with silver plated copper, and the magnets used are very strong.
Magnetic therapy is currently used by millions of people around the world, including professional athletes, such as professional golfers.
BillyTheTree is proud to have this unique collection of magnetic bracelets in its online store at http://www.billythetree.com/sabona.aspx.
"This is a very well-established and respected brand name in magnetic jewelry, and we now carry the full selection. We couldn't be more thrilled to be able to offer this great line of magnetic bracelets to our customers," says Robin Webber of BilyTheTree.
Sabona of London, Inc., established in 1959, has a long history as the premier manufacturer and marketer of copper and magnetic jewelry worldwide. The expanded Sabona product line includes Copper Magnetic Bracelets and Stainless Steel Magnetic Bracelets as well as Pro-Magnetic Sport silicone wristbands and Sabona Athletic Bracelets, a line of fabric magnetic bracelets.
About BillyTheTree.com
Founded in 2004 by Robin Weber when he was still a senior in high school, BillyTheTree.com offers a large variety of affordable, yet high quality jewelry, watches and sunglasses. The company offers free worldwide shipping on these product lines, which include almost 20,000 items, consisting of magnetic jewelry, gold and diamond jewelry, sterling silver jewelry, jade jewelry, high performance sport sunglasses, and more. For more information, or to place an order, please visit: http://www.BillyTheTree.com.