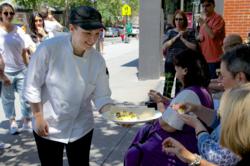 I would highly recommend if you are looking for something different to do.
New York, NY (PRWEB) June 30, 2013
New York Tour Company, Urban Oyster, announced Friday that it has received the 2013 Certificate of Excellence from leading travel rating website, Trip Advisor. The prestigious award is given annually to the businesses that maintain consistently high ratings throughout the year. Although only the top ten percent of businesses on Trip Advisor make the cut, Urban Oyster has received the accolade for 2013, making it the company's third year in a row to do so.
Urban Oyster is also ranked as one of the top five things to do in Brooklyn. One German user states, "Delicious food and nice guides with amazing stories", while another user called the Craft Beer Crawl as "one of the best beer tours I have been on". Even local New Yorkers gush about the tours one calling them "Fabulous!" and another shares, "I would highly recommend if you are looking for something different to do."
This is but a sample of the many great reviews to be found on Trip Advisor. It is no surprise; therefore, that Urban Oyster has received such good ratings from Trip Advisor users. Their dedication to high quality walking tours can also be seen on popular consumer website Yelp, where Urban Oyster has consistently maintained a five star rating, and is one of few companies to do so.
Urban Oyster provides five walking tours around Manhattan and Brooklyn; Brewed in Brooklyn, the Brewery, Winery and Distillery tour, Craft Beer Crawl, NYC Waterfront Food Tour and the Brownstone, Brooklyn food tour.
About Urban Oyster:
Urban Oyster is a New York-based tour and events company, launched in 2009 by David Naczycz. The company has created multi-sensory, theme-based tours and events in New York City, which aim to reveal the stories behind the people and places that make the city's neighborhoods unique, vibrant, and sustainable. Each tour and event celebrates local people, businesses and institutions and serves to connect people directly to these outstanding and vital resources. By doing so, Urban Oyster hopes to contribute to vibrant and sustainable local economies. Urban Oyster offers a variety of regularly scheduled public tours and events as well as offering private tours and events that are enjoyed by native New Yorkers and visitors alike. http://www.urbanoyster.com