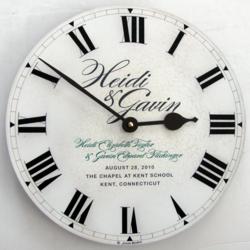 Each clock is unique and personal and will become a cherished reminder of the couple's wedding day.
(PRWEB) June 30, 2013
At weddingclocks.com, John Borin creates one-of-a-kind custom clocks that are specially designed for each customer.
"We are not about just making a clock; we use a clock dial as a canvas on which we screen print a design that uniquely tells the couple's story," explains Mr. Borin.
Initially, Mr. Borin works with the customer to create a design that uniquely reflects something about the couple. It might portray a special memory such as where they met or the place they were engaged or married. Or perhaps they share a special interest such as cooking or sailing that can be reflected in a design.
One unique wedding gift idea was a custom clock created for a couple that was married in Venice. The design had a graphic of gondolas along with the names of the bride and groom and their wedding date and location. Another had a drawing of a cottage over the water in Nantucket where the bride and groom spent their honeymoon. The design might also reflect the theme of their wedding or include a quote that is meaningful to the couple. Since each clock design is created specifically for the couple to whom it is being given, the possibilities are endless.
According to Mr. Borin, "Each clock is unique and personal and will become a cherished reminder of the couple's wedding day. These clocks could very well be the centerpiece on a table when they celebrate their 50th wedding anniversary."
About WeddingClocks.Com
At WeddingClocks.Com in Dallas, Texas custom clocks have been made since 1990 by John Borin. These clocks are screen printed with designs that have been specially created for each customer. Here, the clock is used as a canvas on which to create the perfect wedding or anniversary gift. The designs are printed with enamel ink on an enamel coated steel dial just as was done 150 years ago.
In order to duplicate the look of the old clocks which used heavy-gauge steel hands, Mr. Borin has reproduced the old hand styles using the same material. These elegant hands are individually cut from heavy-gauge steel, giving each a unique character that simply cannot be reproduced in hands stamped from lighter materials.
To authenticate the clock, it is signed and dated by the maker upon completion. Mr. Borin's custom clocks have been featured in magazines such as "Food and Wine," "Country Living," "Coastal Living," "La Cucina Italiana," and "D Weddings."