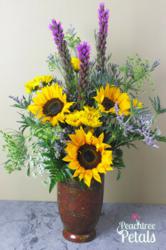 Atlanta, GA (PRWEB) July 12, 2013
Peachtree Petals, a recognized leader in floral bouquets and wedding floral services announces re-delivery services for all floral orders. The Atlanta florist makes the announcement in efforts to promote its value-added services, expand its current client base and increase sales growth. Peachtree Petals strives to be the best choice in floral arrangement and wedding floral services throughout Atlanta and the Metro-Atlanta area.
Peachtree Petals redelivery services have been created to give an opportunity for their customer's floral arrangement to be received by the recipient. In the event the recipient is not home or the location is closed, Peachtree Petals will redeliver the floral arrangement or gift. The Atlanta florist will attempt re-delivery and leave "call" tag at the door. There is a $10.00 redelivery fee within Atlanta and Metro Atlanta. The fee is $20.00 for redelivery outside of Metro Atlanta.
The initial delivery instructions are very important, especially when it is regarding delivery to a residence. At the time of every order, customers are asked if no one is at the residence or answers, can the floral bouquet be left at the door. For online orders, customers are asked within the order process, is Peachtree Petals given permission to leave the floral gift if no one answers. Below the question, the customer is informed of the re-delivery charges if they answer no.
If the customer states it is not, Peachtree Petals attempts to contact the sender for assistance. If necessary, Peachtree Petals will redeliver. The redelivery can be the same day, depending upon driver location and other factors. In the event if cannot, the driver will transport the floral arrangement back to the floral shop for redelivery the following day. If a customer would like the arrangement to be delivered that day to a different address, Peachtree Petals can reroute the driver as well.
Peachtree Petals is a full-service Atlanta florist providing superior floral bouquets and wedding flower services throughout the US. From birthday arrangements to wedding bouquets, Peachtree Petals is able to meet all of your floral needs. Peachtree Petals services a growing list of clients with weekly floral subscriptions, wedding consulting services, and free same-day flower delivery within the Atlanta and Metro-Atlanta area.