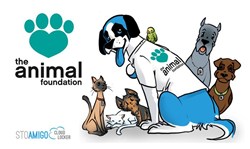 We realized that our QR code dog tags would be a huge benefit to pet owners and a smart way to use technology to identify lost pets.
Las Vegas, Nevada (PRWEB) July 17, 2013
Duvon Corporation announced today that it has teamed up with The Animal Foundation, Nevada's largest open-admission animal shelter and pet adoption agency, to help reunite lost pets with their owners. The technology company is offering pet owners a valuable tool for identifying their pets, along with the opportunity to donate to the shelter through Duvon's crowdfunding campaign.
"All of us at Duvon are animal lovers, and have been looking for a way to give back to the animal welfare community," explains Duvon's President and Chief Creative Officer, Ben Ow. "We realized that one of our campaign 'perks', a QR code dog tag, would be a huge benefit to pet owners and a smart way to use technology to identify lost pets. We became aware of The Animal Foundation's goal to save more lives this summer and win a $100,000 grant from the ASPCA, and we wanted to help."
Reuniting lost pets with their owners is an important part of The Animal Foundation's work in the Las Vegas community. The non-profit is currently competing with 48 other animal welfare organizations across the country for a $100,000 grant from the ASPCA. The participating shelter with the greatest increase in lives saved through adoptions, placing animals with rescue organizations and reuniting pets with their owners during the summer months will receive grant funding from the ASPCA to develop and implement new programs that will help save more lives.
Ow, who calls the QR code dog tag the "Forever" tag, says it is more than just an accessory for furry friends. "Those who receive a dog tag register the tag with us and can then upload information about their pet to our cloud storage platform. The QR code on the dog tag is similar to a UPC code that links to the uploaded information. It can be read by a QR code reader that many people already have on their smartphones or can download for free," he says. "It's a valuable and visible way to immediately identify a lost pet and return him to his owner."
The Animal Foundation recommends that in addition to an implanted microchip, every pet lover should make sure their pets have visible identification at all times. The Forever tag provides an extra form of identification to aid in reuniting lost pets with their owners. Ow adds, "If more pets wore a tag that identified the pet quickly, it could dramatically increase the number of lost pets that return home every year." The Forever tags are transferable to a new pet or new owner, and information can be easily updated, hence the term "Forever".
"One in three pets goes missing during their lifetime. Without proper identification, 90% will never return home," says Andy Bischel, Director of Development for The Animal Foundation. "When used in combination with microchip technology and traditional pet ID tags, the Forever tag can provide an extra layer of protection for your pet and can help facilitate a safe return home in the event your pet becomes lost."
Pet owners can link the tag to any type of media files – documents like contact information and veterinary records, photos, or even video files. "Of course, pet owners can have a little fun with the tags as well. Consider uploading a favorite photo album or funny video of your pet to share with others you meet," Ow says. The tags also have many other creative uses, highlighted on the campaign site. Pet owners utilizing the Forever tag as a form of pet identification should make sure their contact information is always up-to-date.
Those interested in claiming the Forever tag and supporting The Animal Foundation should visit the "Claim Your Own Cloud with CloudLocker" campaign at http://igg.me/at/cloudlocker and look for the "Be-A-Pal" perks package. For a $10 contribution, supporters will receive a Forever tag and $5 will be donated to The Animal Foundation. For more information on the Forever tags and how they work, visit http://www.cloudlocker.it/animal-foundation.
"We are very excited to have the opportunity to partner with The Animal Foundation on this campaign," Ow says. "We hope that our mission of using technology to provide peace of mind and privacy in uncertain times will increase exposure for the important work The Animal Foundation does in our community. Anything that benefits animals is something we wholeheartedly support."
"We are so grateful to have the support of Duvon in our effort to save more lives," Bischel adds. "We see more than 120 animals entering our shelter every single day of the year, and we are confident that, when combined with pet microchip identification and traditional ID tags, the technology of the Forever tag will enhance our ability to return lost pets to their owners quickly."
About Duvon Corporation
Duvon Corporation is headquartered in Las Vegas with offices in the USA, Asia and Europe. The company is responsible for the development and implementation of the StoAmigo media management system, CloudLocker and other award-winning business and technology innovations. The team at Duvon Corporation is committed to developing exceptional products that enrich the digital life experience, and solutions that offer users security, privacy and control over their digital media. For more information visit cloudlocker.it
About the Animal Foundation
The Animal Foundation is a private, non-profit, multi-service agency dedicated to making a difference in the lives of animals in the Las Vegas Valley. To promote the humane treatment of animals, The Animal Foundation operates Nevada's largest open-admission shelter (Lied Animal Shelter), taking in more than 40,000 lost, unwanted and abandoned pets every year. Additionally, the Foundation operates lost and found services, foster home and adoption services, a low-cost spay and neuter clinic and vaccination clinics, and community education. To learn more about The Animal Foundation or view adoptable pets online, visit animalfoundation.com and facebook.com/animalfoundation.