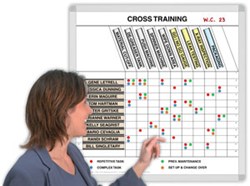 Macedon, NY (PRWEB) July 30, 2013
Magnatag's new magnetic Cross-Training whiteboard system organizes and displays employee training, qualification and skill levels. The Operations Manager of a Florida HVAC company says "We found everyone really takes pride in the number of magnets next to their name on the board. Each magnet represents a skill. It shows they care about their jobs. If you don't have enough then it shows us you're not doing enough to be part of our team, so we've tied this system into our yearly performance reviews. We set up the board and posted it on the floor so everyone can see who is qualified in different areas. If they see that someone needs help, then they do so. They don't have to wait around to be told where they can go. I can't say enough good things about this board. It is extremely easy to use and quick to update."
"Our customers tell us the Cross-Training board system serves as a scoreboard and a motivator for their employee training program. It organizes and displays a matrix of people, skills and qualifications," says Magnatag spokesperson Christian Krapf. "Placed where everyone can see it, workers are silently encouraged to learn and qualify in as many skills as they can."
The CrossTrainer board arrives ready to use with magnets and everything needed to operate it. Lines and lettering are heat-fused printed and can be customized as you order on line. For more information go to http://www.magnatag.com/CROSSTRAINING or call 800 624 4154 and talk to a visible systems specialist.
About Magnatag® Visible Systems
Magnatag designs, manufactures and direct-markets over 2,300 magnetic printed whiteboard kits, calendar planners, maps, custom boards, WhiteWalls, RotoCube Bulletin Towers, magnets, whiteboard accessories and other information display systems for industry, hospitals, schools, business and government. A veteran-owned family company founded in 1967. See their website at http://www.magnatag.com.