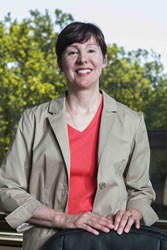 After earning the degree, it surprised me how many choices and doors opened up for me, and I became a professional rather than just a worker.
McMinnville, OR (PRWEB) July 30, 2013
Linfield College announces the release of the "Affordable Colleges 2013 Online Survey" which has ranked Linfield College as one of the top six Oregon colleges providing high return on investment (ROI) to its graduates. The national survey found that for every dollar spent on tuition, graduates from Linfield College – from both the residential and the online degree program – have higher average starting salaries and lifetime earnings than students who attended other colleges. This distinction is significant for Linfield's Adult Degree Program (ADP), whose older student body often returns to school in order to achieve higher career earnings.
The practicality of a higher salary can be a key factor to adults returning to college as they choose where to complete their education. Linfield College graduate Susan Erickson, who completed all of her accounting degree courses in Linfield's ADP, explains: "My experience is that I simply wanted a better job when I started [the Adult Degree Program]. I imagine a lot of people thinking about going back to college feel the same way." Erickson's career flourished after she graduated from the ADP. "After earning the degree, it surprised me how many choices and doors opened up for me, and I became a professional rather than just a worker. I accepted a new position at a salary significantly higher than I was earning before graduating with my Accounting degree."
A key reason Linfield is able to provide students with more value for their education is the fact that Linfield is a non-profit college, committed to the teaching of undergraduates. As this survey demonstrates, Linfield's focus on high-quality education translates into graduates attaining a stronger skill set and higher salaries, whether they graduate with the RN to BSN, management degree, or from another Linfield program of study.
An additional reason adult students choose Linfield is that their ADP is one of the most affordable online bachelor's degree completion programs in the nation. On both a regional and a national basis, Linfield's online ADP tuition is comparable with many residential public colleges and universities and it is lower than most other private colleges and universities. As another attractive financial feature, Linfield is a private college and does not charge separate "in-state" and "out-of-state" tuition rates. Instead, all students pay the same low-cost tuition at Linfield regardless of their state of residence, thus enjoying the flexibility and freedom to live, work, and study wherever makes sense.
About Linfield College Adult Degree Program
Chartered in 1858, Linfield College is one of the first colleges in the Pacific Northwest and is regionally accredited by the Northwest Commission on Colleges and Universities. The Adult Degree Program offers adults the opportunity to earn a bachelor's degree or certificate in eleven fields of study.
Online programs offered by Linfield College Adult Degree Program include an online management degree, accounting degree, online marketing degree, arts and humanities degree, RN to BSN degree and international business degree and certificates in accounting, human resource management and marketing.