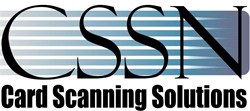 Los Angeles, CA (PRWEB) July 31, 2013
Card Scanning Solutions Inc., a leading developer of image processing solutions and optical character recognition (OCR) technology, will be exhibiting at the Greenway PrimeLEADER 2013 User Conference in Washington, DC. This event will be held at the Gaylord National Resort & Convention Center from the 22nd to the 25th of August. Exhibiting at booth number 200, CSSN will demonstrate its OCR software and its ScanShell® 800DX duplex scanner which have been integrated with PrimeSUITE, Greenway's premier EHR/PM solution. Through this integration, PrimeSUITE users can benefit from the time- and cost-effective means of automated information collection as well as build upon the value of their electronic health record and practice management solution. The result is greater efficiency, limited human error, increased productivity and reduced costs.
The integration of the PrimeSUITE solution with the OCR software and the ScanShell® 800DX duplex scanner from Card Scanning Solutions Inc. has enabled users to automate the patient registration process which enhances patient service and satisfaction, facilitates adherence to compliance guidelines, increases profitability and provides users with a robust medical practice management solution. The ScanShell® 800DX A6 duplex scanner from Card Scanning Solutions Inc. is an OCR unit which offers the ability to simultaneously capture both sides of a scanned document such as medical insurance cards and driver's licenses. The scanner is equipped with a high speed USB 2.0 standard interface and therefore requires no external power supply. The ScanShell® 800DX scanner is lightweight and fully portable and with its compact size, this scanner is a convenient solution for both desktop and mobile use. It is also TWAIN and WIA compatible and delivers quick digital capture with zero warm-up time.
Instead of manually entering driver's license and medical insurance card data, using the integrated product will reduce human error and increase productivity. PrimeSUITE users can also easily capture the images of the cards and display them in the patient's record for future reference. Once the ID card is scanned, the OCR technology identifies and auto-populates the appropriate text fields in the PrimeSUITE software, which enables the creation and maintenance of accurate electronic records of every incoming visitor into a facility. Users can then customize how this data is used and shared in a manner specific to a practice or specialty. In this way, data-use is maximized and ease-of-use is enhanced. Additionally, clinical content can be shared through the Clinical Content Library and between peers. More than 3,500 clinical templates are available in Greenway's specialty-based content library.
With the comprehensive OCR Software Developers Kit (SDK) from Card Scanning Solutions Inc., its advanced OCR software has been seamlessly integrated directly with the PrimeSUITE solution to provide full access to the automated data-collection process. The Greenway PrimeLEADER 2013 User Conference in Washington, DC will provide attendees the opportunity to learn more about the exciting and innovative solutions from Card Scanning Solutions Inc., so step into Booth 200 and experience cutting-edge solutions that are leading the way in the healthcare industry today.
About the Greenway PrimeLEADER 2013 User Conference
Greenway Medical Technologies' PrimeLEADER national user conference is Greenway's premier annual event. This year's conference, with the theme of LEADERSHIP, will bring together nearly 2,000 healthcare professionals who will hear keynote presentations from industry thought leaders and participate in workshops and seminars to help them optimize the value they receive from PrimeSUITE, Greenway's certified and fully integrated electronic health record, practice management and interoperability solution platform. More than 50 partners and exhibitors will be on-hand to demonstrate products and services that provide value complementary to PrimeSUITE.
Additional information on the image processing solutions offered by CSSN, Inc. can be found at http://www.card-reader.com.
Card Scanning Solutions Inc. is a leading developer of card reading and image processing technologies. They are renowned for developing an OCR engine that can read the driver licenses and ID's from all 50 states and over 80 countries. Their high-level DSP (digital signal processing) algorithms are able to filter and clean tarnished images received from an ID scanner, which differentiates their technology from other OCR providers. Card Scanning Solutions Inc. offers valuable solutions that significantly increase productivity, save time and money and result in greater efficiency in a wide variety of industries including Medical, Financial, Hospitality, Security and more.
For more information contact:
Celeste Monzon, Sales and Marketing Manager
213/867- 2625