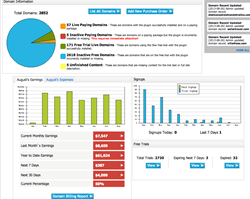 Our resellers can confidently sell SEO services to their clients, let us do all the hard work, and simply take their commission.
San Clemente, CA (PRWEB) August 26, 2013
Search engine optimization (SEO) leader Blackwood Productions has rolled out a new SEO Reseller Platform, allowing anyone to rebrand and resell its award-winning optimization tools and services and receive 50 percent commission for every sale.
Although the seo reseller program is an excellent accompaniment to the services offered by marketing-related companies such as public relations firms, advertising agencies, affiliate marketers, social media marketing firms, and web design companies, it is open to all entrepreneurs who are interested in making substantial money from SEO.
"We've had tremendous success in attracting some of the biggest names in online advertising and affiliate marketing to our reseller program," says Blackwood Productions CEO Robert Bibb.
He attributes the platform's popularity to the turnkey convenience it provides to marketers who want to offer SEO services to their clients but do not want to build and manage a fully operational optimization company.
"Our resellers can confidently sell SEO services to their clients, let us do all the hard work, and simply take their commission. We have designed the platform to be a 'set-and-forget' system to allow them to scale their client base significantly faster than they've ever done before," Bibb explains.
"We manage all the clients they bring in without missing a beat. Our efficiency, reliability, and proven skills in truly improving Google rankings within weeks makes our resellers look great in the eyes of their clients," he adds.
Blackwood Productions has been in the SEO business for more than a decade. It is known for its ground-breaking WebWorks tool, which combines human expertise with automation to make the SEO process leaner and more effective. Blackwood now has over 38,000 client websites, many of which have been loyal to the company for over 10 years.
Asked how they manage to handle such a huge and expanding client base, Bibb explains, "First, our in-house SEO experts assess each client's needs and maps out a complete Internet marketing campaign. Our technology then handles redundant and non-subjective tasks involved, such as link building and keyword generation. This makes the process not only significantly faster but cheaper, too, since we no longer have to pay for man-hours in those time-consuming areas."
Through the SEO Reseller program, Bibb is sharing this semi-automated technology to other Internet marketers looking for top-quality SEO services that they will be proud to offer.
"We are essentially letting resellers make money from the system we perfected," he adds. "On the reseller's end, it is a completely 'set-and forget' kind of system. We do all the nitty-gritty SEO tasks on their behalf, never bothering them unless there is missing information or some sort of error in their order. We manage all the details so our resellers don't have to."
Industry exerts welcome this new development, describing it as a 'refreshing solution.' Unlike Blackwood's SEO Reseller Platform, many of the current private label and white label SEO programs still require substantial reseller participation.
"Inferior platforms are not fully turnkey, requiring resellers to still deal with different suppliers—from content writers to programmers—and micromanage their clients' accounts. Our platform minimizes their work. Our resellers simply sell the SEO service and take their commission, which starts at 25 percent but can go as high as 50 percent," explains Bibb.
The SEO Reseller Platform is fully re-brandable and accessible through a sub domain. It comes with a dashboard management tools that allow resellers to track their clients' progress as well as their commissions.
Interested resellers pay a one-time introductory fee of only $795—one of the lowest in the industry—and can start selling right away.
"We customize and rebrand the platform in a matter of minutes, so resellers don't have to wait a long time to start making money. For many of them, it's a great way to create another source of monthly cash with minimal efforts," explains Bibb.
He likewise promises instant payouts.
"Resellers get paid instantly via PayPal, where we've set up a system that automatically gives them their commission the moment their client's card is processed. In effect, they get paid the instant we get paid. There is no waiting and no minimum payout," Bibb adds.
The platform also gives registered resellers flexible setup and commission options, which they change at anytime based on what suits them. Those who want to establish their own pricing scheme and bill their own clients can choose to become Private Label Resellers. Those who prefer to let Blackwood bill their clients directly, on the other hand, can choose to become White Label Resellers.
About Blackwood Productions:
Blackwood Productions was founded by SEO veterans and internet marketing specialists. For more information on the SEO Reseller Program and how to join, please visit http://www.blackwoodproductions.com/blackwoodproductions.php?Action=cms&k=rebrand .