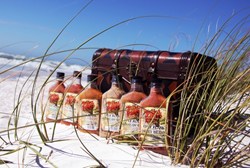 Yarr..that's good stuff!
Clearwater, Florida (PRWEB) August 12, 2013
Pirate Jonny, aka, Jonathan Toner, owner, loves to create healthy and flavorful dishes with these unique Caribbean blends to suit any palette.
"We love BBQ and went looking for the perfect combination of flavors that were just right for ribs, chicken, fish and veggies on the smoker and on the grill. Recipes are often posted on Facebook, the monthly newsletter and every recipe flavor is featured on Pirate Jonny's website," says Jonathan.
Embracing the spirit of the Caribbean, these rubs and seasonings are packed full of flavor, while also offering a MSG free and low sodium alternative. Flavorful meals that tantalize the taste buds is the typical result of using the wide array of products available from Pirate Jonny's.
Since receiving the 2011 and 2012 awards from The National BBQ Association, Hot Pepper awards in New Jersey and many other local awards, a full product line of 10 different dry rubs, seasonings, and four sauces have been created. The rubs include Sweet Island, Caribbean, BBQ Curry, and Scorched Pirate. The seasonings include Cuban Mojo, Jamaican Jerk mild and hot, Caribbean Roundup, Tampa Bay Key Lime Chili and the newest Cajun Pirate-as a customer request, and since Jon's wife, Terri is a native of New Orleans.
Although Pirate Jonny's products are named Caribbean "BBQ", the blends can be used in all types of daily cooking such as on the stove and in the crock pot-not just the grill. Using all-natural ingredients that seal in the flavors of various meats and seafood, results in great Caribbean flavor and tenderness. The rubs and seasonings can even be used for multiple purposes: salads & soups, cold appetizers, dips and chips.
"It was important to us to create a product of high quality that would be incredibly flavorful in use with easy to complete recipes for those of us that may or may not have an affinity for cooking," says Terri.
Pirate Jonny's has found the perfect blend for each flavor, well suited to any taste with varying degrees of heat, from mild to hot, as well as maintaining the emphasis of flavor and healthiness. The majority of products are family friendly and low heat. Bottom line Pirate Jonny's is good on everything!
About Pirate Jonny's:
Jonathan Toner, owner of Pirate Jonny's, aka "Pirate Jonny", is an avid sailor and "foodie", who loves to cook. He is a Landscape Architect and Arborist who creates his visions on the computer and in the kitchen. Jon and Terri's vision for Pirate Jonny's is to help everyone enjoy the Art of cooking made easy, healthy and delicious, with the flavors and adventures of the Caribbean. Both Terri and Jon love to go to the Caribbean to check out the local flair. See all the flavorful and fun recipes on http://www.piratejonnys.com.