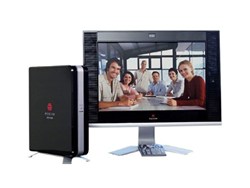 Milwaukee, WI (PRWEB) August 02, 2013
For so long, video conferencing from the desktop has just been talking heads on the screen. The urgent pace of today's corporate environment demands concise communications in a timely manner. Polycom desktop video conferencing products provide the video and sound quality that's expected in the business world. Telcom & Data, a leader in business phone systems, is excited to now carry desktop video conferencing products from Polycom. The Polycom Executive Desktop System HDX 4002 provides brilliant high definition video conferencing.
The Polycom HDX 4002 gives the user the ability to stay connected and productive where ever they choose to work. The desktop video conference system is built with High-Definition audio and video. This allows for excellent point to point and multipoint video and audio conferences. The integrated camera and microphone allow for meetings and conferences to be carried out naturally. The HDX 4002 is as close as you can get to being in the same room as the person you are talking to without actually being in the same room.
The Polycom Executive Desktop System HDX 4002 is a video conference system that organizations and business of all sizes and budget can benefit from. The 20.1 inch screen and powerful built in speakers provide lifelike conversations every call. The screen can also be used as a computer monitor. Siren22 Stereo Surround Audio guarantees realistic and natural conversations.
For more information about the Polycom Executive Desktop System HDX 4002, visit Telcom & Data's website or call 800-335-0229.
About Telcom & Data: Since 1996 Telcom & Data has been providing thousands of telecommunications solutions to organizations around the world to measurably improve communications. The company is a leader in business phone systems, intercom systems, and mass notification products. Telcom & Data maintains a network of over 1600 technicians with locations in Chicago, Milwaukee, and Miami.
About Polycom: For over 20 years, Polycom has led the industry in setting the standard for enterprise class communications. From their immersive telepresence systems to their video desktops to their soundstations and accessories, Polycom technology is an integral part of the way businesses around the world do business.