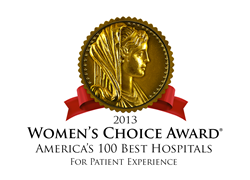 A woman expects more from a hospital experience and takes her role as the primary healthcare decision maker seriously.
Fort Lauderdale, FL (PRWEB) August 14, 2013
WomenCertified®, the collective voice of the female consumer and home to the Women's Choice Award®, announces its 2013 list of America's Best Hospitals for Patient Experience. The selection identifies the country's best healthcare institutions based on robust criteria that consider female patient satisfaction and what women say they want from a hospital including quality physician communications, responsiveness of nurses and support staff, cleanliness and trusted referrals from other women.
Hospitals named as America's Best are then invited to join an elite network of brands which carry the Women's Choice Award, symbolizing their commitment to women. This year's list of Women's Choice Award hospitals include:
2013 Women's Choice Awards for America's Best Hospitals
"Right now, the national conversation about health care is focused on politics, insurance companies, and 'the bottom line,' which ignores what matters most to the patient – their experience with health care providers," says Delia Passi, CEO and founder of WomenCertified, and former publisher of Working Woman and Working Mother magazines. "We're putting the power of choice in the woman's hands with the information to simplify her choices."
Women make or influence more than 90 percent of health care decisions for themselves and their families, according to a study published by the American Academy of Family Physicians. The Award signifies that a hospital meets high standards regarding a woman's preferences, and this distinction allows women to make an informed decision about where to go for care for themselves or their family.
"A woman expects more from a hospital experience and takes her role as the primary healthcare decision maker seriously," Passi adds. "More than ever she is self-managing her care by choosing her hospital prior to choosing her doctors. This allows her more control over her hospital stay outcome based on the quality of care she can expect from a Women's Choice Award hospital."
Hospitals qualify for the highly selective annual list of America's Best Hospitals for Patient Experience based on an in-depth proprietary scoring process. The scoring incorporates a national, standardized survey of patients' perspectives of hospital care reported by the U.S. Department of Health and Human Services (Hospital Consumer Assessment of Healthcare Providers and Systems) and an analysis that weighs criteria identified as the most important to women for patient satisfaction. Additionally, the scoring incorporates WomenCertified's in-depth research on customer satisfaction among women, including a joint study on customer satisfaction by gender conducted with the Wharton School of the University of Pennsylvania.
The America's Best Hospitals for Patient Experience award by WomenCertified consists of four categories, with a total of 400 hospitals recognized nationwide. They include hospitals with up to 100 beds, 101-250 beds, 251-400 beds and over 400 beds. The 100 best scores in each category determine the Award winners. View the complete list online. WomenCertified accepts absolutely no payment in exchange for placement on the list.
"Recognizing the best hospitals nationwide that are women-friendly and align with women's identified preferences is important to our mission at WomenCertified, where women help other women with tough, consumer decisions," Passi concludes. "Most importantly, when a woman sees the Women's Choice Award at her local hospital, she'll know the hospital values her experience as a critical component of her and her loved one's care."
ABOUT THE WOMEN'S CHOICE AWARD
WomenCertified, Inc is a marketing research firm, home to the Women's Choice Award, the only award that identifies brands that women recommend and serves as a competitive differentiator for businesses. Awards are based on surveys of thousands of women, as well as research conducted in partnership with the Wharton School of the University of Pennsylvania on what drives the consumer experience for women vs. men. To learn more, visit http://www.womenschoiceaward.com