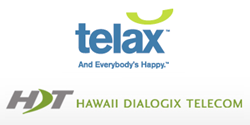 Located in Hawaii where tourism drives the economy many of our customers can benefit from Telax services for reservations, customer service, and revenue generation.
(PRWEB) September 12, 2013
Telax Hosted Call Center, a leader in cloud contact center software, is pleased to announce their partnership with Hawaii Dialogix Telecom (HDT) enabling fully-supported, reliable service in Hawaii for Skyline Eco-Adventures and many others to come.
HDT is a group of motivated telecom professionals who are personally invested in providing a great product and unsurpassed customer support. Telax and HDT hold similar values that have proven to work seamlessly together to surpass client expectations.
"Located in Hawaii where tourism drives the economy many of our customers can benefit from Telax services for reservations, customer service, and revenue generation," said Jared Grugett from HDT, "We are excited to establish this partnership and provide this high quality product to our customers."
The partnership began with Skyline Eco-Adventures. Skyline owns, operates, and franchises leading zipline adventures in Hawaii and across the United States. Skyline has been recognized as a leading adventure company both nationally and internationally through extensive media coverage and numerous prestigious awards in sustainable tourism, best business practices, and adventure travel.
Skyline was in need of a cloud contact center solution that could service Hawaii inbound and outbound calling. They needed the solution to be easy-to-use and provide extraordinary support. Telax fulfilled these needs with their Hawaii Direct Telephone Company, LLC (HDT) partnership. HDT supplied the required network services and technical support to Skyline and Telax seamlessly integrated to provide a full serviced hosted contact center solution.
##
Telax Hosted Call Center provides the capabilities to create a world-class customer care and service desk operation. By leveraging cloud computing, Telax delivers an advanced contact center solution with more functionality than traditional hardware at a fraction of the cost. Telax clients get a customizable, easy-to-use solution that includes responsive, full-service support and no long-term contracts. The simplicity delivered by Telax Hosted Call Center enables clients like Best Buy, Johnson & Johnson, CI Investments, Health Canada and the GSA, to provide the best service to their customers, valuable business intelligence to their executives, and a user friendly solution for their agents. The result is a better customer experience today and a better organization tomorrow. And Everybody's Happy.™
Hawaii Direct Telephone Company, LLC dba Hawaii Dialogix Telecom (HDT) is a privately held and licensed facilities-based Competitive Local Exchange Carrier headquartered in Honolulu, Hawaii. In business since 2002, the Company provides services on HDT-owned switches and network infrastructure. Services provided include local and long distance voice, dedicated Internet access, private networking, and data transport services as well as bundled voice and Internet solutions. Although our primary target is the SMB market in the State of Hawaii, we also provide bulk service arrangements to large, multi-tenant high-rise buildings and complexes. Additionally, HDT works with resellers who want to deliver a highly effective and comprehensive service offering to their customers. HDT uses Metaswitch Class 5 soft-switching equipment to run its traditional and next-generation telecommunications services.