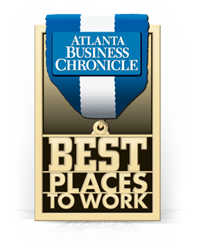 Atlanta, GA (PRWEB) September 23, 2013
Soliant Health, a leading specialty healthcare staffing provider and part of Adecco Group, debuted at number 15 among "The Best Places to Work" in Atlanta Business Chronicle's annual survey.
The Atlanta Business Chronicle selected the top 100 Best Places to Work from a nomination pool of more than 560 companies and organizations. The list comprised of three categories: small (up to 100 employees), mid-size (101-500 employees), and large (501+ employees) companies.
The 2013 Best Places to Work were named during a sold-out event at the Grand Hyatt Atlanta on Sept. 13. Awards were presented to the Top 10 in the large employer category, the Top 30 in the medium employer category, and the Top 60 in the small employer category. In its first year on the list, Soliant Health ranked at number 15 in the medium-size category.
As the originator of "The Most Beautiful Hospitals in the U.S." contest, Soliant Health has had its fair share of community-driven votes and nominations, but never for the company itself – until now.
"It's a great honor to be named one of Atlanta's Best Places to Work in 2013," said David Alexander, president of Soliant Health. "To be ranked at number 15 as a first-time nominee means that we are not only providing the best healthcare staffing solutions, but outstanding employee satisfaction as well."
Each year, the Atlanta Business Chronicle partners with Quantum Analytics to determine the Best Places to Work in metro Atlanta. In an anonymous survey, employees are asked to provide feedback on key dimensions such as work environment, people practices and trust in senior leaders. Only companies that receive the most favorable ratings from their employees make the Best Places to Work list.
For more information about the Atlanta Business Chronicle's Best Places to Work awards, please visit http://www.bizjournals.com/atlanta.
---
About Soliant Health
Soliant Health, an Adecco Group company, is a leading provider of specialized healthcare staffing services to hospitals and healthcare providers. By supplying traveling healthcare professionals on both temporary and direct hire assignments, Soliant Health delivers comprehensive healthcare staffing services to leading facilities across the United States. Soliant's teams of professionals are qualified to fill physician, nursing, therapy, pharmacy, clinical research, imaging, and other healthcare positions.
For further information, please contact:
Tera Tuten
Operations Director
Soliant Health
904-527-5826
tera(dot)tuten(at)soliant(dot)com