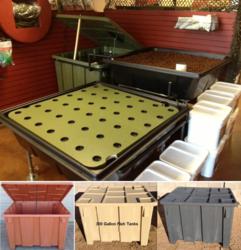 Become Food Independent...
Phoenix, Arizona (PRWEB) March 12, 2013
The company, based in Phoenix, offers systems that range from the size of a typical home entertainment center to the floor space of a small garage. They are compact and highly efficient, with food yields that increase dramatically with the size of the system. Endless Food Systems' kits come with everything a user needs to get started (Just add water & fish).
"An aquaponics farming system is a bottomless food source that can drastically reduce or eliminate your need to purchase food from grocery stores — especially artificial or genetically modified foods," said Chad Hudspeth, President of Endless Food Systems. "We are very pleased to offer our all-in-one aquaponics kit to the public. With this system, you can save money on your monthly grocery bill, eat healthier and protect yourself and your family from any potential food shortages in the future."
Aquaponics systems function by establishing a small-scale symbiotic ecosystem that requires very little maintenance and minimal energy to sustain. In this ecosystem, water is cycled between a fish tank and vegetable grow beds. The fish produce waste in the form of ammonia, which is then pumped into the growing beds where bacteria process it into a usable, nitrogen-rich medium for growing vegetables. The vegetables leech the nitrogen out of the water as they grow in a process that can be repeated indefinitely.
The smallest of the units offered by Endless Food Systems, at six-by-six feet, is capable of providing supplemental nutrition for families and reducing dependence on store-bought foods, while an eight-foot by eight-foot unit can meet the total nutritional requirements of a single individual. The larger systems, measuring 12-by-16 feet, have the potential to sustainably feed an entire family of four.
While the Endless Food Systems units require an upfront investment, their rate of return (ROI Analysis) more than makes up for this cost in the long run. According to the U.S. Department of Agriculture, the moderate monthly grocery bill for a family of four is about $861 to $1,024. Thus, in just over a half a year, an aquaponics farming system can pay for itself.
"Performance is much better than a conventional garden," said Chad. The systems consume 90% less water, grow 10 times more per square in much less time, can be used indoors or outdoors & do not emit harmful runoff into our streams and waterways. And without the use of engineered pesticides and fertilizers, the food is safer, better tasting and, best of all, free."
For more information on Endless Food Systems, visit http://www.endlessfoodsystems.com/.