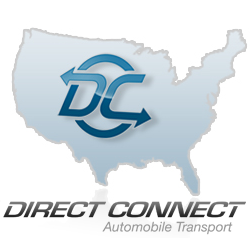 The new module enables customers to receive an instant quote for auto transport and conveniently schedule their vehicle pickup online.
Fort Lauderdale, FL (PRWEB) March 31, 2013
As part of its goal to provide the best auto transportation services possible, Direct Connect Auto Transport has continued to focus on providing a more customer friendly process for its clients. Recently, the company developed a new module for their website which streamlines the process of receiving a free car shipping quote online. The new module enables customers to see an instant quote for auto transport and to schedule their vehicle pickup right online if they're satisfied with their price. The quote form can be filled out in a little over a minute. Users only have to specify their vehicle type, their pick-up and delivery location, their estimated move date and their e-mail address. The e-mail address is used only to send the user their free quote and to follow up on their specific quote request.
Once someone fills out a form using the new module they will be promptly be sent an email detailing their auto transportation quote. In addition to the email, filling out the form will also send the user to another page on the Direct Connect Auto Transport site. This page will be completely personalized to the shipping quote that was requested. The page will show each of the factors that produced the user's car shipping quote. The page also displays a point to point route indicating the distance between the vehicles pickup and dropoff locations. Here, users can even further customize their orders by selecting optional services. The optional services currently available include enclosed vehicle shipping, expedited service, and inoperable vehicle transportation.
The new module is currently live and can be found at http://www.directconnectauto.com/auto-transport-quotes/
About Direct Connect Automobile Transport
Direct Connect Auto Transport is a major auto shipping company and one of America's premier carriers, specializing in corporate relocation and consumer-oriented vehicle shipping, who can not only move cars but also motorcycles and water craft. The company also handles overseas automobile transport services, and has a record of safety and low prices. The company is versatile when it comes to working with the client's budget and providing different tiers of protected transportation, by offering not only standard open auto carriers but also fully-enclosed trailers and flatbed trucks. They are proud to be the go-to car delivery company for individual shippers that are relocating or purchasing cars online, as well as the reliable shipping service for franchise dealers and auto auctions nationwide.