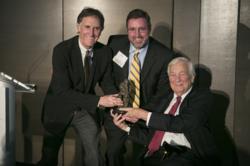 I have spent my career trying to make a difference and contribute in some small way. If that effort has brought value, then I am blessed
Knoxville, Tennessee (PRWEB) March 11, 2013
"When I consider the words people use to describe John Whitehead, integrity, selflessness, service and character, I am humbled to be honored with this award," said BPV Capital Management's Senior Partner and CEO, Mike West as he was presented with the John C. Whitehead award in New York City on the evening of Monday, Feb. 26.
The PathNorth foundation serves as a resource for successful business leaders dedicated to bringing meaning, authenticity and fresh perspective to both work and life. The award's namesake, John C. Whitehead, currently serves as an honorary member of PathNorth and is highly respected by all members.
Whitehead has been a servant leader most of his life. He commanded a landing craft at Normandy on D-Day, and later joined Goldman, Sachs, where he rose to be Chairman, pioneering the globalization of international finance. In 1985, President Reagan appointed Whitehead as Deputy Secretary of State at a time of immense global change with the fall of the Berlin Wall. Never content to retire, Governor Pataki charged Whitehead with the task of rebuilding lower Manhattan following the horrific attack upon the Twin Towers.
The John C. Whitehead award is given to families and individuals who exemplify the vision of PathNorth to live integrated lives of meaning and contribution. "Mike West epitomizes principle-based leadership. He is authentic and caring and seeks to bring value to his community. He is a model for all," said Ambassador and founder of PathNorth, J. Douglas Holladay.
"I have spent my career trying to make a difference and contribute in some small way. If that effort has brought value, then I am blessed," Mike West said.
Mike plans to display the John C. Whitehead award in his office so that he can continue to be reminded of how imperative it is to make a positive difference in his industry as well as his community.
To read more about Mike West and BPV Capital Management, please visit http://www.bpvcapitalmgmt.com.
BPV Capital Management is an investment manager of mutual funds. BPV was founded on the premise that investors and their interests should come first. Not superficially, but as a core value. Not in just words, but in action. As such, BPV's decisions are based on protecting and honoring the interests of investors. Our tagline - Thoughtful, Consistent, Disciplined Investing – originates from years of investing and a strict adherence to unwavering principles. BPV offers products and services to individuals, corporations and institutional investors in the U.S. For more information on BPV, visit http://www.bpvcapitalmgmt.com or call 877-819-2188.