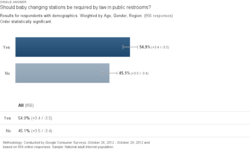 Our survey has certainly made it clear that customers value public restrooms equipped with baby changing stations. Whether legally required or not, it makes sense for all public facilities to install one in every restroom
(PRWEB) March 13, 2013
Babystations.com has recently revealed the results of their extensive surveys conducted on the general public about using baby changing stations. According to this survey, more than half of al Americans want baby changing stations to become a mandatory requirement by law for all public restrooms in the country. Babystations.com is a distinguished online store that offers top of the line changing stations from all reputed brands including Bobrick, Koala, and Hospeco. This trusted online store has set extremely high customer service standards for their customers.
The survey by BabyStations reveals that 54.9 % of people are in favor of having these diaper changing units in the restrooms. Amongst the female respondents, 65.7% shared the same view. This percentage, however, is much higher at 74% for women within the age group of 25-34. This survey also revealed that the grandma's around the country are actively involved changing diapers as 75% women over 65 also agreed that this should become a legal mandate.
There has always been a growing demand for baby changing stations in public facilities because they provide comfort to both the child and the parents. However, the Federal Law still does not require them in the public restrooms. Companies or places offering this facility do it just to provide additional convenience for customers. Talking about their survey, one of the founders of Babystations.com Cameron Wilson said, "Our survey has certainly made it clear that customers value public restrooms equipped with baby changing stations. Whether legally required or not, it makes sense for all public facilities to install one in every restroom."
About the Company: Babystations.com is one of the most trusted online stores for all reputable brands of baby changing stations. The store has just declared the result of their survey on whether baby changing stations should become a legal requirement for the public restrooms.