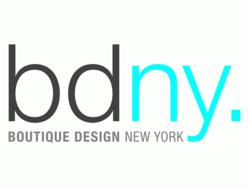 IHMRS is happy to partner with BDNY as it shows great strength in this market.
Cincinnati, OH (PRWEB) September 17, 2012
Boutique Design New York (BDNY), the hospitality interiors trade fair launched in 2010 by Boutique Design magazine, will expand to 60,000 net square feet for its 2013 show, November 10-11, nearly doubling the available exhibit space.
The expansion comes in response to a growing demand for stand space and sponsorship opportunities by exhibitors, following consecutive sellouts in 2011 and 2012, and to attendees' desire for more networking opportunities, unique interactive programs, designed spaces and competitions.
Co-located with the International Hotel, Motel + Restaurant Show® (IHMRS) at New York's Javits Center, BDNY serves the NYC and East Coast hospitality and design community with an edited mix of unique, high-end FF&E options for hotels, restaurants, spas and casinos. While the fair's size will increase in 2013, its best-of-class product focus, intimate feel and international flair will not change.
"After only two years of BDNY, it's amazing to hear such positive comments from both exhibitors and attendees," said Michael Schneider, publisher of Boutique Design and co-manager of BDNY. "Expanding BDNY will allow us to produce an engaging, creative environment, ultimately leading to better attendee participation and ROI for exhibitors."
Joe McInerney, president/CEO of the American Hotel & Lodging Association (AH&LA) added, "IHMRS is happy to partner with BDNY as it shows great strength in this market. Expanding its presence at the show will bring great value to the marketplace and allow our attendees even more access to this niche."
BDNY 2012 will run November 11-12, with more than 250 manufacturers of innovative design products for hospitality, including furniture, lighting, wall coverings, fabric, seating, artwork, flooring, materials, bath and spa and tabletop. The fair will draw some 5,000 interior designers, architects and purchasing executives, along with crossover participation from hospitality property owners and operators attending the IHMRS.
Complete listings of 2012 exhibitors, seminars and events are available at bdny.com. For BDNY exhibitor information, contact publisher Michael Schneider 513-263-9379.
BDNY 2012 is a joint venture between the AH&LA, the Hotel Association of New York City, Inc., New York State Hospitality & Tourism Association and ST Media Group International.
ABOUT ST MEDIA GROUP INTERNATIONAL
Located in Greater Cincinnati, ST Media Group International serves the visual communications industries with its trade publications, branded websites, custom book division and industry events. Media brands include Hospitality Style, Boutique Design, VMSD (Visual Merchandising and Store Design), Package Design, Screen Printing, Signs of the Times, The Big Picture, Industrial + Specialty Printing, and Signs of the Times & Screen Printing en Espanol. For more information, visit stmediagroup.com.