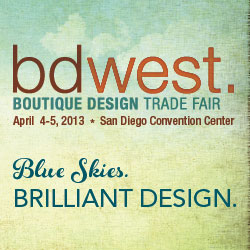 BDwest follows in the successful path of sister trade fair, BDNY, now in its third sold-out year.
Cincinnati, OH (PRWEB) October 04, 2012
Hospitality Media Group (HMG), the newly formed LLC of ST Media Group, today announced the launch of Boutique Design Trade Fair (BDwest), April 4-5, 2013 to be held at the San Diego Convention Center, San Diego, California.
BDwest follows in the successful path of sister trade fair, BDNY, now in its third sold-out year, according to Michelle Finn, President of HMG. BDwest responds to the growing demand for a Boutique Design trade fair on the west coast. Drawing on design elements that galvanize the marketplace for an exciting industry event, BDwest will serve the hospitality design marketplace and attract interior designers, architects, purchasing professionals, hotel owners and operators and manufacturers who provide innovative products to the marketplace, added Finn.
The trade fair will be peppered with creative spaces, including customized display areas, that will provide manufacturers and marketers greater flexibility in their designs as well as provide them with interactive sessions on the trade fair floor. Additionally, build-outs by the winners of the fair's design competitions, as well as gracious networking areas intended to engage the audience, promise to make this trade fair experience unique and beyond the grid.
CEU conference sessions will be offered prior to the trade fair opening, featuring peer-based sessions, as well as content from outside our industry, giving the audience a fresh perspective on design, architecture and development. BDwest will launch with 30,000 net square feet of stand and display area and is projected to attract approximately 1,500 attendees, added Finn.
Potential exhibitors and attendees interested in acquiring additional information about BDwest should contact President of HMG, Michelle Finn at 513.263.9359 or Publisher Michael Schneider at 513.263.9379.
ABOUT HOSPITALITY MEDIA GROUP (HMG)
BDwest is produced by HMG and sponsored by Boutique Design and Hospitality Style magazines. HMG is a privately held media company specializing in trade fairs, conferences and event management and development serving the global hospitality industry.
ABOUT ST MEDIA GROUP INTERNATIONAL
Located in Greater Cincinnati, ST Media Group International serves the visual communications industries with its trade publications, branded websites, custom book division and industry events. Media brands include Hospitality Style, Boutique Design, VMSD (Visual Merchandising and Store Design), Package Design, Screen Printing, Signs of the Times, The Big Picture, Industrial + Specialty Printing, and Signs of the Times & Screen Printing en Espanol. For more information, visit stmediagroup.com.