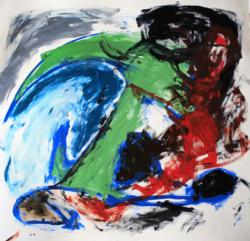 Each piece is individual in it's application and final painting of the print, creating a more personal connection with the art.
Smith Center, KS (PRWEB) March 05, 2013
Kaley Rhodes, artist and owner of online art gallery KBR Gallery announces the gallery's new retail branch of their web presence, offering any unsold originals, privately curated collections, sculpture and the gallery's signature KBR Canvas Prints of all current artwork by Rhodes.
Rhodes explains that a giclee, is an individually produced, high-resolution, high-fidelity, high tech reproduction done on a special large format printer. Giclees are produced from digital scans of existing artwork. Also, since many artists now paint only digitally, there was no "original" that can be hung on a wall. Giclees solve that problem, while creating a whole new vibrant medium for art.
Many canvas giclees are produced in mass quantities, stored in a warehouse and shipped when ordered. Large art companies now process prints and orders for artists, sending a check once or twice a month for their percentage of the sale. So many artists have no idea of what their collectors are ordering, what they like, where they are going and who is buying that the process becomes a very impersonal one - oftentimes deflating the personal value and excitement of purchasing artwork.
KBR Canvas Prints, or Giclees, are personally handled to ensure the finished piece is as vibrant and beautiful as the original; this is probably why they are so often mistaken for the original painting.
After printing and stretching, each piece is finished with a brushing of specially formulated heavy medium, matching the original strokes and motion that together provide a depth and texture not found on any other canvas prints in the industry.
Applied only by the artist, each piece is "individual" in it's application and final "painting" of the print, creating a more personal connection with the art. The end result is a truly spectacular piece of artwork, rivaling only the original strokes that created it; but for much less than an original.
"We are hoping to make every aspect of buying artwork incredible, even if you cannot afford the original piece," states Rhodes, "changing the attitude from 'the print I ordered...' to 'the piece of art I purchased for my personal collection...'
"My studio is in Kansas - but I really want interested collectors to feel that they can not only go online and order a piece, but come back because the collections and styles are eclectic and addicting; to revisit like they would of their favorite brick-and-mortar gallery."
Established in 2008, KBR Gallery and http://www.kaleyrhodesfineart.com are home to the artwork and privately curated collections of Kaley Brooke Rhodes. Rhodes' artwork resides in private and corporate collections throughout the US and Canada, gaining recognition from online gallery powerhouse Saatchi Online, Zatista.com and Rtist.com as well as featured for sale on OneKingsLane.com. Art directors and personal collectors have compared her bold abstract expressionism style to the likes of Willem de Kooning, Franz Kline, and Robert Motherwell. The self-taught artist from the MidWest credits a keen eye for balance, in both color and motion, for the urban works of art that have amassed a following of loyal collectors.
Canvas prints of all KBR's current and previous work, as well as any un-sold originals are available by visiting Kaley Rhodes Fine Art.