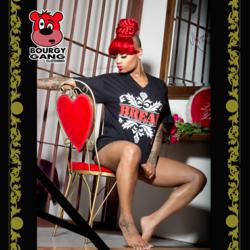 "I See You Guys Doing Big Things" - John Phenom World Renowned Urban Fashion Designer Jay-z
(PRWEB) March 25, 2013
The Bourgy Gang Clothing brand is celebrated for its contemporary twist on hot urban street wear. The signature logo is the red bear, and he is adorned on all of the products which really catches the eyes of new customers, as well as existing fans. Even with its high-end selections, the prices are much more affordable than most, giving the younger urban generation a unique sense of style at an attainable price point. All kinds of men, women, and youth wear are available, from the famed American flag denim shorts, to shirts, snapbacks, rompers and hoodies. Skateboards, accessories, and stickers are the youth's favorite from the line. You can even find swimwear and sleepwear that are both stylish and well-designed.
The history of Bourgy Gang Clothing has been short but very busy. Since opening the online store in November 2012, the Bourgy Gang Clothing website saw over 200,000 visitors in the first few months and has continued to uphold a hefty amount of views and customers (15k a month on average). Bourgy Gang Clothing over the past months has expanded from four tee shirts designs, to over 70 new items with at least two new items being added daily, from clothing, jeans, accessories, and skateboards. The name Bourgy pronounced "Boo-Gee" is derived from the French word Bourgeoisie, meaning uppity, classy, or better than. "We wanted to take the word and turn it into something fun and catchy. Just like the bear. He is fun and eye catching. That defines Bourgy Gang Clothing" says the designer and owner of Bourgy Gang Clothing, Lionel Barnes.
For most Bourgy Gang connoisseurs the brand embodies the finest men and women fashion, casual, relaxed, comfortable and stylishly fashionable. Bourgy Gang denim for instance, when worn with a brand snapback, brand shirt, brand jewelry, or brand jacket, is enough to blow the minds of those who watch the guy or girl making an memorable entrance. You can wear everything from Bourgy Gang, from head to toe, and look mind-bogglingly dapper.
Bourgy Gang is the world's most derisive, fun, and on-trend lifestyle brand for men, women and children of all ages. Fanciful, confident, and urban with an edge, Bourgy Gang was founded in Florida by a fashion-obsessed magazine publisher/photographer/music producer. Known for making the bear and the term Bourgy an icon of casual luxury, today Bourgy Gang is a national phenomenon. The company stands by the motto, "The world will be Bourgy". With its unique photo shoots on the Bourgy Gang website, you truly never know which celebrity will pop up in Bourgy Gang next, with so many fashion forward celebrities requesting the brand all over.
BourgyGangClothing.com offers a superfluity of men's and women's fashion clothing and accessories and has an immeasurably diversified collection in their online store compared to other urban competitors in their category.
If interested in wholesale purchasing please e-mail
info(at)bourgygangclothing(dot)com
Contact:
Lionel Barnes
CEO/Designer
Bourgy Gang Clothing
http://www.bourgygangclothing.com
http://www.twitter.com/bourgygang
http://www.instagram.com/bourgygang
http://www.facebook.com/bourgygangclothing