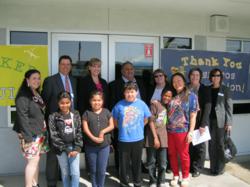 Math is critical to success in high school and prepares students for college and lifelong career prosperity that enriches the entire community.
Buena Park, Calif. (PRWEB) March 26, 2013
Lottery winners Jacki and Gilbert Cisneros today announced a $50,000 donation through their foundation to help improve math education for 700 Buena Park students. The gift to MIND Research Institute was announced at James A. Whitaker Elementary School, where kindergarten through fifth graders will participate in MIND Research's innovative ST Math® program.
"Math is critical to success in high school and prepares students for college and lifelong career prosperity that enriches the entire community," said Gilbert Cisneros. "We were impressed by the measurable impact that MIND Research Institute is making in underserved communities and want to help expand their program to more schools."
The Gilbert and Jacki Cisneros Foundation, dedicated to benefitting education for Hispanic students, was founded by the couple after they won the Mega Millions lottery in 2010. Their grant to MIND Research helps support teacher training, ongoing educational support, and access to the proven ST Math instructional software for students at Whitaker and Pendleton Elementary.
"We're grateful to the Cisneros Foundation for their commitment to improving children's lives through education," said Valerie Connolly, principal at Whitaker. "The children have already started to love learning with ST Math and JiJi. They think they're playing games, but we know they're building spatial-temporal reasoning and math skills that will make them successful for years to come." JiJi is the animated penguin featured in the ST Math software games.
A 2012 analysis by MIND Research found that Orange County elementary schools implementing the ST Math program increased their math proficiency on the California Standards Test by an average of 8.3 percentage points, compared to an average 2.5-point increase among schools not using the program. In 2011, schools in Santa Ana Unified School District completely closed the math achievement gap, raising their proficiency from 35% in 2005 to 67% – the state average – by implementing MIND's programs nearly district-wide.
MIND's ST Math program provides visual math puzzles that support deep, conceptual understanding of concepts covered by state math standards from kindergarten through fifth grade. Because the program doesn't rely on language proficiency, or prior math proficiency, it's accessible for English language learners and children with learning disabilities.
MIND Research Institute
MIND Research Institute is a neuroscience and education research-based, non-profit corporation. MIND applies its distinctive visual approach to illustrating math concepts and building problem-solving skills as the basis for innovative, research-proven math education programs for elementary and secondary schools. MIND's programs currently reach over 500,000 students and 21,000 teachers in more than 1,785 schools in 30 states. More: http://www.mindresearch.net.
###