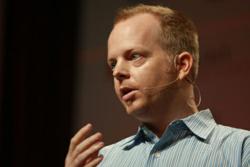 We're always looking for ways to help local government customers work more efficiently, particularly with integrating the reports from our mobile reporting app directly into existing systems" said Jason A. Kiesel, Founder and CEO of CitySourced
Los Angeles, CA (PRWEB) March 01, 2013
CitySourced, a best-of-breed enterprise civic engagement platform, announced today the honor of being selected as an IBM Beacon Award Finalist at the invitation-only IBM PartnerWorld Leadership Conference in Las Vegas, Nevada.
"The Beacon Awards are a central and vital element of IBM's Business Partner recognition program," said Mark Hennessy, General Manager, IBM Global Business Partners & Midmarket. "Recipients of these awards exemplify the ability to deliver business value to clients through innovative solutions, technical excellence and industry expertise."
Using CitySourced, residents report broken street lights, potholes, graffiti, and other issues directly through the native smartphone apps built on iOS, Android, Blackberry, and Windows Phone. These reports contain detailed information provided by the user, including location information and a photo. Using software developed by CitySourced, these reports are automatically added to IBM Maximo, software used to maintain assets. Once that report is updated or resolved in Maximo, CitySourced notifies the app user, creating seamless two-way communication between the resident and their government.
"We're always looking for ways to help local government customers work smarter and more efficiently, particularly with integrating the reports from our mobile reporting app directly into existing systems. Our work with IBM has allowed municipalities to crowdsource reporting by residents while maintaining a central location and standard process for government employees using IBM products," said Jason A. Kiesel, Founder and CEO of CitySourced.
In addition to partnerships with IBM customers Los Angeles Unified School District and the City and County of Honolulu, CitySourced has deployed its mobile reporting solution worldwide, including in San Francisco, San Jose, Los Angeles, and Omaha. International customers include cities in Canada, United Kingdom, Australia, and Abu Dhabi.
###
About CitySourced:
CitySourced is a real-time mobile civic engagement platform. CitySourced provides a free, simple, and intuitive platform empowering residents to identify civic issues (public safety, quality of life, & environmental issues, etc.) and report them to city hall for quick resolution. In addition, it is an opportunity for government to use technology to save time and money plus improve accountability to those they govern.
For more information about CitySourced, including images, please visit http://www.citysourced.com
Contact Information:
Andrew K Kirk (@andrewkkirk), Director Sales and Marketing
Phone: (424) 270-9438 x704
Email: andrew(at)citysourced(dot)com