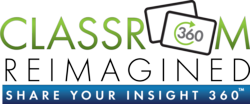 We are excited to see the creative and diverse ways teachers are using this new technology to enhance the interaction and engagement between teacher and student.
Scottsdale, AZ (PRWEB) March 18, 2013
eInstruction, a leading education technology company, today announced details of its new "Classroom Reimagined" video contest for grades K-12. Educators in the U.S. and Canada (excluding Quebec) are invited to submit short, creative videos demonstrating how they are using the new Insight 360™ in their classrooms to drive student engagement and results.
Insight 360 is the all-in-one classroom instruction system that enhances best teaching practices, utilizes existing lesson content, and drives student learning while integrating with new and existing education technology. The powerful, next generation of easy-to-use software enables educators to boost student learning and gain immediate results of formative and summative assessment using a variety of web-enabled devices such as smartphones, laptops, tablets, or the iPad®.
The eight-week contest from March 18 to May 17 is designed to recognize and reward classrooms that demonstrate how Insight 360 is being used with the iPad and other web-enabled devices to seamlessly delivery interactive instruction and assessment with real-time results.
"Insight 360 is changing the way technology is integrated in the classroom by magnifying an educator's ability to provide highly engaging, personalized instruction," said Shelly Bodine, Vice President of Marketing at eInstruction. "We are excited to see the creative and diverse ways teachers are using this new technology to enhance the interaction and engagement between teacher and student."
The top three video entries, announced on May 30, will be awarded Insight 360 software licenses for their school. The top video will receive forty (40) licenses of Insight 360 Premium Edition with one year of Web Access. The second and third place videos will receive twenty (20) and ten (10) licenses, respectively. The combined prize packages are valued at more than $150,000.
Teachers who are not currently using Insight 360 can download a free 30-day trial of Insight 360 Premium Edition with Web Access at http://www.einstruction.com/insight360trial. Participating classrooms will need a wireless connection, teacher iPad or Mobi 360™, and iPads or other web-enabled devices for students.
Videos need to be posted no later than May 17 to http://classroomreimagined.einstruction.com. Schools will have the opportunity to share their video submissions with parents, students and members of the community on social media platforms such as Facebook and Twitter from the contest website.
For complete rules and guidelines for participating in the Classroom Reimagined Video Contest, visit http://classroomreimagined.einstruction.com.
You can also follow the contest on Facebook at http://www.facebook.com/einstruction and Twitter at http://twitter.com/einstruction and #classroomreimagined.
About eInstruction®
eInstruction® is a leading, global education technology company committed to providing interactive teaching and learning solutions that help educators and students advance learning every day. eInstruction offers innovative classroom instruction systems, student response systems, fixed interactive whiteboards, mobile interactive whiteboards, research-based software, and professional development solutions that facilitate significantly higher levels of collaboration, engagement, and student achievement across all stages of the learning process.
Available in 48 languages, eInstruction is enhancing education in more than 90 countries worldwide.
eInstruction has global headquarters in Scottsdale, AZ and offices in Denton, TX; Fort Wright, KY; and Paris, France.