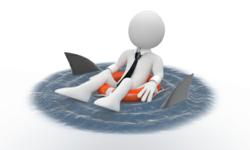 The reality is, the cyber arena is like shark-infested waters, with a potentially lethal array of predators always circling around
New York, NY (PRWEB) March 28, 2013
Last week, FOX Business published a story titled "Most Small Businesses Don't Recover From Cybercrime," which contained some numbers cited by subcommittee chairman Rep. Chris Collins, (R-NY) based on a study conducted by the U.S. House Small Business Subcommittee on Health and Technology and revealed during a hearing that took place just days before called "Protecting Small Businesses Against Emerging and Complex Cyber-Attacks." The numbers should be a real eye-opener for any small business plugged into the digital world today; namely, that 60% of all small businesses victimized by cyber crime close their doors within six months of the incident. Global Digital Forensics offers proven cyber security solutions which can dramatically increase the odds for any business to not only thwart a vast majority of the cyber threats they are barraged with on a daily basis, but also provide them with the tools, personnel and expertise to survive a successful cyber intrusion or data breach should the unthinkable occur.
Joe Caruso, founder and CEO/CTO of Global Digital Forensics (GDF), shared some additional industry insight into the realities businesses face and some ways professional cyber security experts, like those at GDF, can be instrumental in helping them not only survive, but thrive on the digital frontier.
"It doesn't take a rocket scientist or an elite business manager to do the math highlighted in FOX's article; $6.75 million dollars in damages on average for a successful data breach and/or $214 per compromised record are simply numbers the vast majority of small businesses won't be able to recover from. Yet, more than 75% of all the small businesses they surveyed believe they are safe from cyber attackers. That's as crazy as playing Russian Roulette with five chambers loaded, and the end result could prove just as catastrophic. The reality is, the cyber arena is like shark-infested waters, with a potentially lethal array of predators always circling around and on the hunt for the easiest meal they can find, like drive-by cyber attacks and spam-based phishing campaigns. Then of course there are the big boys also swimming around among them that have the power and skill to hunt any prey of their choosing, like the Advanced Persistent Threats (APTs) presented by deep-pocketed organized groups, be they foreign state-sponsored cyber espionage campaigns, or even industrial sabotage. Now, maybe there is some truth in the fact that small businesses may not be regular fare for the apex predators in the mix, but not expending the effort and resources necessary to protect themselves against the 90% plus of other predators on the prowl is simply an exercise in foolishness."
"That's why covering the cyber security basics, at a minimum, is so important, even for small businesses. It will give an organization a sound foundation to substantially diminish the threat posed by that 90 plus percent of predators swimming around. And should one manage to get through the shark net, even one of the big boys, having professional cyber emergency responders already tapped and on call will give the client a big leg up in identifying the nature of the attack, assessing their injuries, stopping the bleeding and helping to propel them along the path of the quickest recovery possible with the least amount of discomfort and lingering effects. And that includes dealing with regulatory compliance and reporting nightmares certain industries have to contend with more than others."
"At GDF, we provide the experience and expertise that allows businesses to build a sound cyber security foundation, from the ground up, customized to their unique needs and digital landscape. We start by providing detailed cyber threat assessments where we go through their existing cyber security policies and procedures with a fine tooth comb to expose any areas of weakness and help the client remediate them. And if no standardized policies and procedures exist, we help the client create them. Then we move on to comprehensive penetration testing, which is basically assuming the role of a real-world cyber attacker and attempting to break through their cyber defenses using the same tactics and techniques they would, exposing more areas of weakness and susceptibility, whatever they may be, from the hazards presented by mobile devices and BYOD (Bring Your Own Device) policies, to weaknesses against social engineering tactics and everything in-between.
"To round out the trifecta, we also have experienced and savvy emergency incident responders strategically positioned across the country which allows us to execute emergency response with times unrivaled in the industry. And for the icing on the cake, we can also offer "no-retainer" Service Level Agreements for emergency cyber incident response to our clients after we have done the threat assessment and penetration testing for them because we'll already know the lay of their digital infrastructure, we will have already established sound, working relationships with the right people on the cyber security side of their house and we'll already understand their data and work flow to maximize the benefits and minimize the impact on the organization. The real beauty for the client is they won't have to pay us one additional penny to have us on call if there is no cyber incident emergency."
"For small businesses to considerably improve their cyber security posture, it doesn't have to be hard or an excessive drain on resources, but it does have to be done if they don't want to be just another shocking statistic."
*Global Digital Forensics is a recognized industry leader in the fields of cyber security and emergency incident response, with years of experience assisting clients in the government, banking, healthcare, education and corporate arenas. For a free consultation with a Global Digital Forensics specialist, call 1-800-868-8189 about tailoring a plan which will meet your unique needs. Emergency responders are also standing by 24/7 to handle intrusion and data breach emergencies whenever and wherever they arise. Time is critical if a cyber incident has occurred, so don't hesitate to get help. For more information, visit http://www.evestigate.com.