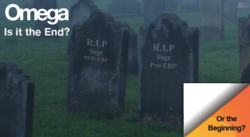 The open source ERP community drives a relentless pace of improvements and refinements to the product.
Norfolk, VA (USA) (PRWEB) March 21, 2013
Customers and value-added resellers (VARs) of a particular legacy enterprise resource planning (ERP) software company may have received an over-size postcard recently with haunting images – an eerie graveyard full of tombstones.
Continuing to make its mark as the next generation in the evolution of accounting and financial management software, xTuple is escalating a tongue-in-cheek campaign targeting the world of inflexible, antiquated, and customer-indifferent legacy ERP vendors. xTuple's humorous campaign is responding, however, to a fairly serious situation in the ERP world.
According to a proliferation of online and emailed announcements, two more of the affected legacy vendor's decades-old ERP products will be put out to pasture in the next twelve months. The vendor is Sage Software.
Industry analysts say these "end-of-life" pronouncements represent an implicit admission that an aggressive strategy of acquiring older ERP products, and attempting to force users to upgrade to other systems, has not been successful. The announcements include invitations to an "Omega Tour" (aptly named for the last letter of the Greek alphabet), nationwide events to answer questions about the software's demise and the aforementioned upgrade "options."
Cognizant of the busy schedules of professional ERP and technology experts, xTuple invited those same beleaguered Sage Software partners and users to xTuple's Alpha e-Tour – a series of webinars enjoyed from the convenience of attendees' computers – to explore a new beginning with xTuple ERP.
As xTuple continues to "crack the code" on using open source software development to deliver better product and better business value, the company says it is determined to make ERP "fun again" – as well as an affordable, flexible, modern and powerful alternative to the old, tired and rigid accounting software of the past.
xTuple PostBooks ERP was voted by the global open source community as SourceForge Project of the Month for March 2013. xTuple CEO Ned Lilly highlighted the role of that community in his remarks and thanks to that group: "You – the tens of thousands of dedicated ERP, CRM, accounting and technical professionals who use xTuple software – are our greatest single asset as we disrupt the cozy, bloated world of traditional ERP software," said Lilly. "You make our product better every day, and you keep us honest. In return, I hope you feel we provide a good value for your business and conduct ourselves in an open and transparent way."
Lilly also maintains a blog, The ERP Graveyard, characterized as "musings and snark on the ever-shrinking world of business software – and how open source can be part of the solution." After reports that Sage would be jettisoning several of the CRM products it had acquired, in addition to the products featured in the "Omega Tour," the blog suggested that CRM may now stand for Carrion Relationship Management, Couldn't Rationalize Marketing, or Carving off Rotten Meat.
According to open source champion Marc O'Brien, vice president of business development for xTuple, "Open source PostBooks and commercially-supported xTuple solutions are replacing legacy and proprietary ERP vendors at an accelerated pace. The open source ERP community drives a relentless pace of improvements and refinements to the product. Every user – from the two-person startup using the free PostBooks Edition to Global 1000 enterprises using commercial Editions – benefits from the constant cycles of innovation and the stability of community-monitored software development that make the xTuple open source ERP system so powerful."
Tweet:
@xTuple: #ERP is gravely serious xtuple.com/press/erp-is-gravely-serious
@xTuple: legacy #ERP among the ruins xtuple.com/press/erp-is-gravely-serious
@xTuple: hauntingly humorous horror xtuple.com/press/erp-is-gravely-serious
About xTuple – World's #1 Open Source ERP
xTuple business management software gives growing companies control over operations and profitability. xTuple integrates all critical functional areas in one modular system: sales, accounting and operations – including customer and supplier management, inventory control, manufacturing and distribution – the powerful tools to Grow Your World®. xTuple delivers value, cost savings and future-focused technology.
As a commercial open source company, xTuple works with a global community of tens of thousands of professional users. xTuple gives customers the ability to tailor solutions with multi-platform support for Windows, Mac, Linux and mobile as well as flexible licensing and pricing options. Connect with the company at xTuple.com, with the open source community at xTuple.org, and join the innovation conversation at NextBusinessBlog.com.
Reference the xTuple Style Guide (xSG): xTuple.com/xSG