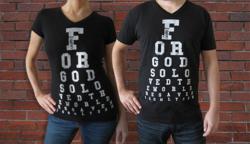 Our deepest hope and prayer for this storehouse is to grow the Wear & Share™ ministry with more products that our customers are just as excited about as our eye chart tees. --Jim Schneider, Co-founder and President
Sharon, Pennsylvania (PRWEB) March 30, 2013
Eyes of Faith makes good today on its promise to optical trade show attendees and Facebook fans to offer their John 3:16 eye chart t-shirts online. The t-shirts feature the biblical scripture, "For God so loved the world, He gave His only son," in the style of an eye chart on the front of each t-shirt and a small Eyes of Faith logo is printed near the neck on the back. Someone in need will receive a t-shirt for each purchase as a part of the Wear & Share™ program that Eyes of Faith already conducts for its eyewear brands.
"We are thrilled to launch our e-commerce site, the Storehouse, to bring products directly to consumers that complement our eyewear collections and allow them to support the brand," said Amy Schneider, Co-founder and Vice President of Product Development. "These t-shirts really resonate with our fans because they are one more way to Wear & Share with someone in need, all in the name of faith."
The John 3:16 eye chart design is printed on high-quality, 100% cotton black v-neck tees, in a contoured ladies option and a unisex fit. Both styles are available in sizes small, medium, large, and extra-large, with a double-extra-large option in the unisex fit. For every purchase, Eyes of Faith partners with its local, Sharon, Pennsylvania, printer, Steve's Teez, to donate a t-shirt featuring the Wear & Share™ logo and a reference to John 3:16 to global missions. Additional branded items are in development for the Storehouse, to be introduced throughout 2013.
"The Bible discusses the storehouse in Malachi 3:10 as a place to store the treasures that support a ministry," said Jim Schneider, Co-founder and President. "Our deepest hope and prayer for this storehouse is to grow the Wear & Share™ ministry with more products that our customers are just as excited about as our eye chart tees."
Eyes of Faith Optical was founded in 2008 by husband and wife team Jim and Amy Schneider to provide a faith-conscious eyewear option to the optical industry and contribute to the global mission of serving people in need. For their launch to the optical industry, the eye chart t-shirt design was gifted to Eyes of Faith to provide a unified team look. The shirts were an instant hit, and have even been used as a mobile eye chart by eye doctors on mission trips with Sight Ministries.
The Eyes of Faith family of eyewear brands, including Eyes of Faith®, Not of This World®, VeggieTales®, and Women of Faith® (launching fall 2013), are available at independent eye care professionals throughout the US, and in Puerto Rico and Canada. The company's vision is to encourage people to "wear" their products and "share" their faith through the gifts of sight and clothing, which are donated to people in need via their program Wear & Share™.
Eyes of Faith John 3:16 Eye Chart Tees are available for purchase online at http://www.eofshop.com
For more information about Eyes of Faith Optical or Wear & Share, please visit eofoptical.com http://www.eofoptical.com/collection
To schedule an interview contact Mandy Stoffel at mandy(at)eofoptical(dot)com or 888.777.9390.