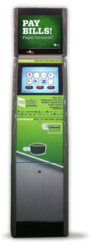 I am delighted that the Payteller will help consumers save time and money
Boca Raton (PRWEB) March 28, 2013
Payteller LLC, a leading provider of self-service kiosks offering financial services, including bill pay and cellular top-up, has begun distribution of its financial services kiosk, "Payteller™", with the rollout beginning in Florida.
The Payteller allows retailers to offer full-scale financial services to their customers without the need for expensive staffing, compliance or retail space. Malls, gas stations, airports, educational campuses and many more locations can now offer hundreds of high margin virtual products in a compact, highly efficient delivery package.
The Payteller allows consumers to pay bills, top up prepaid cellular phones and load MasterCard and Visa prepaid debit cards in one convenient location. The Payteller is especially valuable to over 80 million financially underserved consumers, those without bank or traditional checking accounts, in the United States.
Underserved consumers devote a great deal of time and money completing financial transactions. They travel to multiple locations and pay for check cashing, money orders and bill payments. The process is time-consuming and typified by exorbitant fees. The Payteller is faster, cheaper, and more convenient, which lessens the stress and hassle for underserved consumers.
Over 12,000 billers, including virtually every utility, cable and satellite TV bill in the US, can be paid at a Payteller. The Payteller also offers prepaid wireless phone top-ups, prepaid PINless international long distance codes, and prepaid Visa and MasterCard reloads. Future versions will include international money transfer and the ability to purchase gift cards and prepaid debit cards dispensed immediately from the kiosk.
The company is initially targeting convenience stores, gas stations, wireless stores, and supermarkets. By June 2013, Payteller anticipates placing more than 100 Payteller kiosks in Florida. By year-end, the company expects placements in Florida, Michigan, Texas, and California.
"We couldn't be happier with our Payteller," said Roy Guthrie, owner of All About Wireless in Miami, Florida, who installed his kiosk in February. "The traffic in our store increased from the first day we had it and our gross revenue for top-ups more than doubled the first month. By the second day, we had new customers come into the store just to use the Payteller."
"I am delighted that the Payteller will help consumers save time and money," said Jeff Foster, CEO of Payteller LLC. "Unfortunately, we live in a society where the highest fees for financial services are charged to those who can least afford it. Our kiosks provide these services less expensively and with a level of convenience currently unmatched for underserved consumers, while improving traffic flow and bottom line profits for the retailers who install them."
About Payteller LLC
Payteller is focused on bringing time and cost-effective financial services to the unbanked and underbanked populations of the world. Payteller merges best in breed technologies to reduce transaction time and cost while maximizing revenue, profit and loyalty with telecom top up, international long distance, bill payment, prepaid card issuing, prepaid card loading, remittance, advertising, virtual gift cards and more. Payteller kiosks are available for purchase or lease to qualified merchants throughout the Americas.