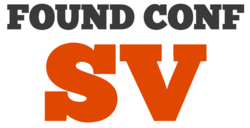 "Events like the FOUND Conference are bringing together great speakers and participants to move search and content marketing forward, industries that need a little shaking up." -- Dave McClure, Founding Partner, 500 Startups
San Francisco, CA (PRWEB) March 20, 2013
GinzaMetrics, backed by Y Combinator and 500 Startups, today announced FOUND Conference will host its first Silicon Valley event in April. FOUND Silicon Valley will feature presentations and discussions on the future of SEO and content marketing. The intimate event provides a chance for attendees to learn and network with industry veterans and fellow professionals in a collaborative format.
Unlike the traditional sales angle of many conferences, FOUND attendees are encouraged to participate through Q&A, challenge ideas, and propose their own theories. Hosted at 500 Startups Mountain View office, conference attendance is kept small to allow anyone wishing to participate in discussion to do so easily.
"Events like the FOUND Conference are bringing together great speakers and participants to move search and content marketing forward, industries that need a little shaking up." -- Dave McClure, Founding Partner, 500 Startups
The current FOUND Silicon Valley lineup includes:
Colin Zima, Head of Data Science, Hotel Tonight
Niren Hiro, CEO, SearchMan
Tommy Griffith, SEO Manager of Emerging Markets, PayPal
Ray Grieselhuber, CEO & Co-Founder, GinzaMetrics
Adam Helweh, CEO & Founder, Secret Sushi
Guy Nirpaz, CEO & Founder, Totango
Thomas Martino, InternMatch
FOUND has events planned globally including: Tokyo, Shanghai, London, New York City, Chicago, Austin and Los Angeles.
Tickets can be purchased on Eventbrite: http://foundconf.eventbrite.com
Conference Details:
Event Name: FOUND Conference - Silicon Valley
Dates: Tuesday, April 2, 2013, 6:00 pm - 9:00 pm
Location: 500 Startups, 444 Castro St. 11th Floor, Mountain View, CA
Rates: $20 - $50
About Ginzamarkets, Inc.:
Launched in late 2010, Ginzamarkets offers the Ginzametrics SEO platform for enterprise and agency clients. Ginzametrics presents complex data into actionable recommendations on a page-by-page basis. The complete solution covers all aspects of SEO including server configuration, broken link notifications, improved crawlability and granular keyword recommendations.
For more information, visit http://www.ginzametrics.com or contact:
Erin Robbins O'Brien, Head of Strategy, GinzaMetrics
Erin (at) Ginzametric s(dot)com