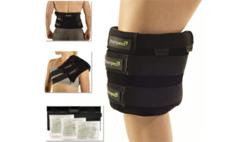 Whether it is for pre-hab or re-hab, hot or cold therapy treatments with a product like FrozenPeaz® should be an integral part of a well rounded training program.

-- Steve Rozhan
Certified Personal Trainer
Chicago, IL (PRWEB) April 30, 2013
FrozenPeaz® flexible hot and cold therapy is excited to announce an exclusive Twitter contest for three lucky PEA-ple to receive a free FrozenPeaz flexible hot or cold therapy product of their choice (up to a $65 value).
"Whether your pains are chronic or acute, or big or small, we at FrozenPeaz® want you to have the hot and cold therapy you need", said Arthur Blackwood. "From the weekend warrior to those who deal with pain on a daily basis, hot and cold therapy is a pill-free way to relieve pain and reduce swelling," Blackwood concluded,
FrozenPeaz® flexible hot and cold therapy packs are effective for both hot and cold therapy treatments. The compression wrap serves the double purpose of allowing mobility during treatment sessions while simultaneously helping the hot or cold therapy to penetrate deeper into the muscle.
Contest entry is easy peazy.
1. Follow @FrozenPeaz1 on Twitter
2. Include #FrozenPeaz in a tweet telling the world why you need FrozenPeaz Hot & Cold Therapy.
The "Get Your Peaz of the Prize" contest runs for 10 days starting May 1, 2013. The last Tweet will be accepted at 11:59 CST on May 10th. The three winning PEA-ple will be announced May 20th. Visit FrozenPeaz.com for complete contest rules.
"Whether it is for pre-hab or re-hab, hot or cold therapy treatments with a product like FrozenPeaz® should be an integral part of a well-rounded training program," suggested Steve Rozhan certified personal trainer.
The contest begins May 1, 2013. Good luck and let the Tweets begin.
FOR MORE INFORMATION
To purchase FrozenPeaz Hot and Cold Therapy Wraps or for more information, visit FrozenPeaz.com or Amazon.com/shops/FrozenPeaz.
ABOUT FrozenPeaz Hot & Cold Therapy
FrozenPeaz® patent pending products deliver flexible hot and cold therapy to relieve pain and assist in recovery from minor injuries or post-surgery rehabilitation. PeazPod™ therapy wraps maintain the healing temperature while maximizing comfort. The straps provide customizable compression while holding the wrap in place, enabling moderate physical activity and movement. PeazPod wraps are available in 6 different shapes to conform to various parts of the body. Just like frozen vegetables, PeazPak™ therapy packs are non-toxic. The plant-based Clear Ice™ Solution is a 100% natural alternative to petroleum and glycerin based gels. Relieve pain. Reduce swelling. Recover faster. FrozenPeaz®.
ABOUT FrozenPeaz® Hot & Cold Therapy
Etavonni™ Products, headquartered in Chicago, IL, is a resource for entrepreneurs and imagineurs that believe they can build it better but need a little help. Etavonni, innovate spelled backwards, believes that wonderful things happen when you challenge your perspective. MaryCarol Dolivier and Arthur Blackwood founded Etavonni Products in 2011. Today, patent-pending FrozenPeaz® products are available online and through select physical therapy clinics. For more information on FrozenPeaz products, visit http://FrozenPeaz.com/products.