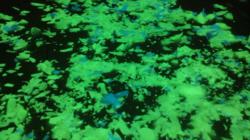 Grand Junction, CO (PRWEB) April 01, 2013
Garage Flooring LLC announced today the launch of its glow in the dark flakes for epoxy and coating systems. Specifically, the flakes are designed to be a broadcast media for garage floor epoxy, garage floor coatings, industrial coatings and safety applications.
The environmentally friendly flakes are available in one pound increments. The product is often used on garage floors for decoration. In commercial and industrial applications, the glow in the dark flake can be used to provide visual guidance in the event of a power outage.
The glows in the dark flakes are available in green or blue. Each color has four different qualities available. According to Garage Flooring LLC, the better quality flakes provide both increased brightness and duration of glow.
"From time to time we get to launch a fun product that helps consumers generate a unique floor that chances are, their friends have never seen. This is one of those products. It also has extraordinary potential in the commercial and industrial coatings industry. The flakes can easily be broadcast in a heavy straight line to outline a walkway in the event of a power outage. Using tape or other masking items, you can create arrows and other items as well. So, while this is an incredibly fun product, it also has the potential to increase safety. All of this and the product is environmentally friendly as well." Stated Justin Krauss, President and Co Founder of Garage Flooring LLC.
About Garage Flooring LLC
Garage Flooring LLC is a leading distributor of garage flooring products including garage floor coatings, garage floor mats and garage floor tiles. Garage Flooring LLC is based in Grand Junction, CO but ships into the lower 48 states free of charge. For more information about Garage Flooring or Garage Flooring LLC visit their website http://www.garageflooringllc.com or call 800-956-4301