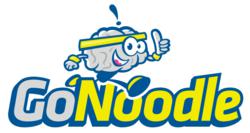 GoNoodle's desk-side activities and brain-break games are based on cutting-edge research in physical activity and deep breathing.
Nashville, TN (PRWEB) March 06, 2013
HealthTeacher, Inc. announced today, during the Partnership for a Healthier America Summit and SXSWEDU Conference, the launch of GoNoodle— a free interactive classroom resource to improve student engagement and youth health through desk-side movement activities. Designed to equip elementary teachers with quick, fun brain breaks, GoNoodle's research-based games help engage kids in learning while addressing serious youth health issues like childhood obesity.
GoNoodle's desk-side activities and brain-break games are based on cutting-edge research in physical activity and deep breathing, which shows that short bursts of movement yield meaningful improvements in energy, focus, and classroom behavior.
"Through my research, we have shown brief breaks of physical activity in the classroom significantly improve students' physical fitness and reduce the need of concentration medicines, helping both with their classroom engagement and performance," said Dr. David Katz, founder of Yale University's Prevention Research Center, Editor of Childhood Obesity journal, and senior advisor to HealthTeacher, Inc. "While more exercise is better, a rather small amount can do a remarkable degree of good - fitting 20 minutes of activity in during every school day can be enough to prevent diabetes in at-risk kids."
With the national push from First Lady Michelle Obama's Let's Move! and Center for Disease Control's Burn to Learn initiatives for kids to get 60 minutes of physical activity each day, GoNoodle is a fun way to help kids achieve a meaningful amount of their daily recommended activity in the classroom.
GoNoodle requires a small time commitment from teachers. "Focusing game play in five minutes or less means it's easy for teachers to incorporate GoNoodle throughout the school day," said Scott McQuigg, CEO of HealthTeacher, Inc. "GoNoodle is a triple play for teachers—it creatively adds all-important minutes of physical activity for kids, it is proven to stimulate learning, and it improves classroom engagement."
What's more, GoNoodle incorporates gamification throughout its suite of desk-side activities and brain-break games, offering a way for teachers and students to see and celebrate the immediate rewards of completed levels and experiences. "Gaming mechanics create an excitement for teachers and students alike to continue using GoNoodle," according to John Herbold, VP of Product at HealthTeacher, Inc. "By marrying engaging gaming experiences with clear classroom benefits for teachers, we have created a fun, easy, and effective way to weave multiple short bursts of physical activity into the school day."
Already used by thousands of teachers during its private beta, GoNoodle is getting rave reviews from kids for being fun and from teachers for its ease-of-use and impact on focusing students for learning. "My class loves GoNoodle! We use GoNoodle each morning and afternoon," said Carrie Stinson, a first-grade teacher in the Northwest R-I School District in Missouri. "I love that it gets the kids up and moving. GoNoodle doesn't take a lot of time away from my instruction either. In the mornings, we have been busy stretching and running races. The kids are excited about the medals they are earning! In the afternoons, right before dismissal, we use Airtime to relax and get settled before we load the busses."
To use GoNoodle, teachers need internet access and a screen, projector or interactive whiteboard. Using the space around their desks, kids take part in GoNoodle's activities and games, such as running in place while being coached by an Olympic-caliber athlete. Teachers can sign-up for GoNoodle for free at gonoodle.com.
About GoNoddle
GoNoodle is a research-based classroom resource for elementary teachers to improve student engagement and youth health through desk-side movement activities and brain-break games. Helping to increase energy and focus while improving classroom behavior, GoNoodle games include Run With US!, developed in partnership with the USA Track & Field Foundation, To the Maximo, Boogie Down, and Airtime, all of which can be played on an interactive whiteboard or computer. Teachers can sign up for free at gonoodle.com.
About HealthTeacher
HealthTeacher, Inc. is the interactive leader in youth health, creating games, apps, and educational resources to make health awesome for kids. HealthTeacher's research-based products are designed to get kids moving and to develop healthy behaviors that last a lifetime. Reaching nearly 7 million kids through its fast-growing network of 12,000+ schools, HealthTeacher's interactive products are used by teachers, parents, and kids to address important youth health issues, including physical activity, nutrition, and social and emotional well-being. To learn more, visit healthteacher.com.
PRESS CONTACT
Alicia Benjamin, 720-940-8572
Director of Interactive Media & Communications
alicia.benjamin(at)healthteacher(dot)com