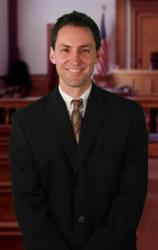 As our firm continues to grow, the needs of our clients have also grown, beyond our home state of Texas.
New York, NY (PRWEB) March 19, 2013
Realizing a need within his own practice, personal injury attorney E. Michael Grossman became licensed in New York to facilitate quality personal injury representation on a broader level. Having practiced in the State of Texas in five of the preceding seven years, New York allows seasoned attorneys the opportunity for reciprocity.
Reciprocity is a common process by gaining access to a state's bar without needing to take the respective state's exam. It is designed to allow access for attorneys who have proven their capacity within their home state. Reciprocity in New York requires an attorney to be licensed in their home state, be in good standing, graduate from an American Bar Association approved law school, and practice in their home state for five of the last seven years. It is important to note not every state is afforded reciprocal jurisdiction, as some states are not as rigorous regarding their bar admission standards.
Attorney Grossman comments on his recent New York admission, "Our firm has always had a connection with the State of New York, as we have litigated several cases in the state. Gaining access to the New York bar allows my firm to bypass pro hac vice admission and practice directly within the state."
Pro hac vice, translated as "for this occasion" or "for this event," allows an out-of-state attorney to represent his client for one occasion, namely the trial at hand. Once the trial is completed, or a settlement is reached, the attorney may no longer represent clients within that particular jurisdiction.
Attorney Grossman continues, "As our firm continues to grow, the needs of our clients have also grown, beyond our home state of Texas. Because we have developed a reputation nationally for taking on some of the larger national trucking companies, it was always likely our practice would expand to a hub like New York."
Grossman Law Offices represents personal injury victims and the families of wrongful death victims across the country. For more information, please refer to http://www.injurylawyersofaustin.com or call 1-855-257-1111 (toll-free).