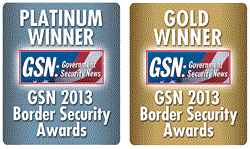 CW4 Richard B. Montgomery of the National Guard Readiness Center in Arlington, VA, named as Platinum winner in the 'Individual Leadership and Service to Country' category.
Chatham, New Jersey (PRWEB) March 15, 2013
Desktop Alert, Inc., the pioneer and leader in less than one minute network-centric emergency mass notification systems (EMNS) to military, government, healthcare, higher education and industrial organizations, today announced that its industry leading mass notification communication platform, Desktop Alert Total Alert System 5.x (DTATAS) has garnered two platinum and one gold award by Government Security News' (GSN) 2013 Border Security Awards program. Awards were formally announced and handed out at the Border Security Expo, which took place in Phoenix, AZ, on March 12-13, 2013.
The winners were selected by a panel of judges led by Chuck Brooks, who earned an MA in International Relations from the University of Chicago, was an Adjunct Professor at Johns Hopkins University, was the first Director of Legislative Affairs for the Science and Technology Directorate of the Department of Homeland Security and was a defense and foreign policy advisor to the late Senator Arlen Spector.
Desktop Alert, an industry leading mass notification provider, was selected as Gold medal winner in the 'Best Mass Notification System' category. Additionally, Desktop Alert shared award honors with the U.S. National Guard, Platinum Winner for 'Outstanding Global Intelligence Sharing Program -- U.S. or Foreign' and also for Desktop Alert client, CW4 Richard B. Montgomery of the National Guard Readiness Center in Arlington, VA, also named a Platinum winner in the 'Individual Leadership and Service to Country' category.
"We are honored to have been chosen as a multiple category winner. In particular, our 4 years of service to the U.S. National Guard and U.S. Air National Guard resulted in two prestigious platinum awards which we are shipping to the Guards Readiness Center with a letter of appreciation," said Howard Ryan, Founder Desktop Alert Inc.
Desktop Alert is the leading provider of less than one minute mass notification and emergency communication systems to the U.S. federal government with deployments worldwide which are currently serving and protecting upwards of 2 million military, federal and state government personnel and private industry customers. Its enterprise-class emergency notification platform is now certified as a 15 second poll alert system by the United States Army.
"We presented numerical results," Ryan added, "showing that our bandwidth consumption mechanisms can reduce the bandwidth borrowing mechanisms by all other known and approved systems. This equates to a bandwidth savings potential in the millions of dollars, while insuring that during an emergency event the overall network footprint is significantly small."
About Desktop Alert: http://www.desktopalert.net
Worldwide U.S. Military organizations such as U.S. Northern Command, The United States National Guard, The United States Air Force Academy, The United States Military Academy at West Point, Multi-National Forces in IRAQ and Afghanistan, The U.S. Air Force, The U.S. Army now utilize the Desktop Alert mass notification platform daily for their organizations emergency communication requirements. Desktop Alert can contact thousands of users with desktop alerts and require receipt confirmation of the message. Those not verified can then be listed on a report and/or sent as a "Target Package" to be automatically contacted by other means such as email, SMS, phone calls and other devices.