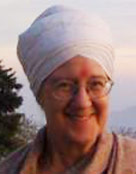 "Come dressed to meditate and move, and bring what you need to sit comfortably on the floor," said Kundalini Yoga teacher Helena Raghubir. "All levels welcome, and especially recommended for yoga teachers creating their own communities!"
Eagan, Minnesota (PRWEB) March 12, 2013
A nationally-known healer is coming to offer a weekend of unique workshops at YogaSoul.
Hargopal Khalsa is a facilitator of Family Constellations, having studied with and been certified by the brilliant psychoanalyst, Bert Hellinger, who synthesized this way of working. Now after practicing Kundalini yoga and meditation for over 30 years and Sat Nam Rasayan for over 20 years, Khalsa assists people in seeing their families, as they are, often addressing imbalances that go back generations.
The first workshop she's teaching is Energy Healing with Sat Nam Rasayan, and it takes place on Saturday, March 23, from 1 p.m. to 5 p.m. Khalsa is teaching the workshop along with Kundalini Yoga instructor Helena Raghubir. In this workshop, through Kundalini yoga and meditation and with the ancient yogic healing art of Sat Nam Rasayan, students will work on being more in touch with and accepting of themselves, reducing the walls that separate and enhancing a sense of belonging.
Sat Nam Rasayan is an ancient yogic healing approach in which the healing happens through the consciousness. While in a transcendent meditative state, the practitioner is aware of all the senses and recognizes blockages, such as congestion, heaviness, or constriction to flow. By allowing what is, in a deep contemplative space, these resistances change or dissipate. When that happens, something shifts in the person being treated. And this works on the physical, mental, emotional, or spiritual levels.
"Life can feel very lonely, and that loneliness can make even the basics of life difficult," Raghubir said. "Yet it is so easy to see the world in terms of self and other, 'like me' and 'not like me,' which deepens our isolation. In this workshop, we will experience a heart opening yoga set followed by experiential teachings from Sat Nam Rasayan, the healing lineage of Kundalini Yoga, to move us from isolation to connection and belonging. Come dressed to meditate and move, and bring what you need to sit comfortably on the floor. All levels welcome, and especially recommended for yoga teachers creating their own communities!"
The second workshop that Khalsa is teaching is Discovering Your Family Constellations, which takes place on Sunday, March 24, from 1 p.m. to 5 p.m. Families hold patterns, habits, entanglements that are passed through the generations. If they are not processed, acknowledged or included, they may show up in future generations. This can happen for many reasons, such as when someone dies young, if a person was excluded from the family, if there is an imbalance between giving and taking, or if perceived injustices were not addressed. Through representation of family members, including ancestors, it is often possible to evolve or even resolve the dynamics that are held in the family. This can open up new ways to relate, releasing bonds that were held in the family for generations.
Cost for a single workshop is $79; cost for both workshops is $145. To register, call 651-452-5789 or e-mail info(at)yogasoul-center(dot)com.
YogaSoul Center's mission is to help clients win the battle against stress. It has an extensive class offering in several styles of yoga, including Kundalini, Hatha and Yin. It boasts a fully equipped STOTT Pilates studio and also offers Tai Chi. Its full roster of teachers and healers provide clients with a variety of healing services, including intuitive readings, Reiki, Thai yoga bodywork, Ayurveda, energy work and several others. YogaSoul also hosts special workshops and yoga teacher training.
To see a full schedule, make an appointment with a healer or sign up for a class, visit YogaSoul's website, http://yogasoul-center.com/. New students get their first week of classes free.